Since way back in the 90's, when the earliest versions DAW software began emerging…
People have always argued about which one is best.
And as the options continually improve, the debate rages on.
For beginners starting out, that makes for a tough decision, doesn't it?
So to help you guys with the all-too-common problem…
For today's post I've created an in-depth guide covering the best DAW software on the market today.
But before we get to it, let me first answer the one question you're all probably wondering…
Free vs Paid DAW Software
There was a time when if you asked me:
Should I use a free DAW?
My answer would have been very simple:
No.
And this is because 10 years ago, the limitations in free DAW software were such that it was just not worth the hassle of learning how to use the software…
Only to find out it wasn't a viable solution in the long run.
However, nowadays you have full-featured free DAWs and usable "Lite" versions of industry standards DAWs.
Which is why in the first part of this article I want to show you some decent free DAWs currently available.
And by "free" I mean completely free forever and completely usable, with no restriction whatsoever.
First up…
Free DAW Software Option #1: BandLabs Cakewalk
Arguably the most full-featured free DAW software out there, Cakewalk was up until 2017 known under the full name Cakewalk Sonar, when the Cakewalk company was bought by BandLabs.
Since then, it's "Cakewalk by BandLabs".
Now, unfortunately Cakewalk is windows-only, so if you're on Mac or Linux you can forget it.
However if you're a Windows user it's a no-brainer. But why exactly? Well, for those reasons essentially:
Unlimited tracks – unlike other free DAW softwares with limited track count, Cakewalk has unlimited tracks.
Mix recall – this feature allows you to save multiple mixes for the same project, so if you're unhappy with one of them you can always use a different, previously saved one. Very handy so you don't have to create multiple projects.
33 integrated virtual instruments – you get 33 high quality virtual instruments out of the box.
And generally a great community and development team.
If you're looking for a real, full-featured DAW to get started in the recording world without investing any money right now, look no further.
Next up…
Free DAW Software Option #2: Audacity
How not to include Audacity in this article, right?
The open-source DAW software has been leading the charts for over 20 years now, and for a very good reason:
It is so freaking simple to use.
But the truth is, it is simple to use for the most popular use people make of it, which is essentially hitting the record button and tweaking the in and out level.
That's it.
The thing is, if you're only planning on recording external sounds with a mic and doing so with the smallest possible learning curve then, by all means, do use Audacity.
However, if you're planning on doing ANYTHING ELSE, just do me a favor and move along to a real DAW.
Next up…
DAW Software Limited vs. Full Versions
A good way of getting used to the workflow of your favorite DAW without investing all of your savings is to use its respective "Lite" version.
These versions generally offer some kind of limitation, typically one of these:
A time limitation – you can only use the DAW for x amount of days
A track limitaton – you can only record and mix 4/8/16 tracks
You can only play music during x minutes – your recording stops playing after x minutes, after which you need to press play again.
Only comes with specific hardware devices – For example, Ableton Lite only comes with some specific devices, although there are dozens of them. You can check the list here.
Take Pro Tools First for example, which is the Lite version of the industry standard's DAW, Pro Tools.
The main limitation here is the 16 tracks max count. Keep in mind some engineers use up to 10 tracks for drums only…
So you can see how reaching the 16 track limit is quick.
Still, it's a great way of getting used to one of the most used DAW software by pros.
The Top Paid DAW Software Options
Poll 1000 studios to ask them which DAW they prefer…and you'll hear a pretty wide range of opinions.
But listen to enough "expert" opinions, and the same few names appear over and over. Because they are the ones that have developed a strong reputation in the industry over many years.
And since each of these DAW's has been used on countless hit recordings, they're ALL perfectly capable of professional results.
So here they are, in no particular order, starting with…
1. Presonus Studio One
Long known in the audio industry for making quality hardware at affordable prices…
Presonus eventually decided to add their own DAW line as well.
So with the help of several formal developers from Steinberg Cubase…
Presonus released the first version of Studio One back in 2009.
Since then, it has quickly risen to become a serious competitor of other top DAW's.
Who uses Studio ONE?
Beginners or producers who want a simple UX without sacrificing a full-featured DAW.
Click below to check out each version.
Bedroom producers find this DAW particularly appealing, because either Studio One Artist or Professional, is included free with ALL of their audio interfaces.
To help you choose, I made a list of their most popular interfaces and what version of Studio One they come with:
Interfaces sold with Studio One Artist:
For now, the only interface sold with Studio One Professional is the PreSonus Quantum 4848. Check it out:
Up next…
2. FL Studio
Formerly known as Fruity Loops… but after a run-in with Kelloggs, who thought people may confuse it with their breakfast cereal…
Sometime during the early 2000's, Image-Line officially changed the name of their classic software to FL Studio.
A top choice for Hip-Hop, EDM musicians and DJ's…
It's a big hit with 'in-the-box' producers due to its:
spreadsheet-like Playlist
flexible Piano roll
extensive automation capabilities
One of the coolest things about FL Studio is…it's the only DAW on the list offering FREE lifetime updates.
Purchase either the Producer or Signature bundle and you'll never have to give them money…ever again. Awesome, huh?
Another reason FL Studio is among the most-used DAW software out there is actually because it used to be so easy to hack…
Meaning many long-time users started producing on a hacked version but liked it so much they actually ended up purchasing the full license later on.
So…Who uses FL Studio?
People who never produced music on a computer before and are looking for simplicity, nice looking UI, people who want a great, easy to use sampler AND hip-hop producers who mainly work with loops.
Click below to see prices/reviews for each version.
NOTE: the Fruity Edition does not have audio recording…So avoid it unless you ONLY produce electronic music.
They also offer a cool mobile version known as FL Studio Mobile. (iOS/Android)
Up next…
3. Reason
Much more than just your average DAW…
Reason offers one HUGE feature that the others don't.
In addition to being a solid stand-alone DAW…
It also functions as a suite of virtual instruments that can be used in combination with other DAW's.
With Reason, electronic musicians can easily collaborate with producers working on virtually any platform.
For those who prefer the look and feel of REAL analog gear…
Its visual interface mimics the design of an actual studio rack, even allowing rear access for cable patching.
Reason have also grabbed the wave of subscription-based services and now offer a new service called "Reason+"…
Which is essentially your regular Reason 12 but offered in a monthly payment pack, instead of a once and done thing.
One advantage of Reason+ is that you can cancel anytime. Worth a try in my opinion if you want to test the DAW with all features but aren't willing to drop hundreds of bucks.
Also, if you've known Reason products for a while, you might notice they revamped their product range since the last big release (version 12).
Indeed: no more INTRO/SUITE versions – only one version, available as a pay once software or as a monthly subscription.
Anyway, if you like virtual instruments, Reason is definitely worth a closer look.
Who uses Reason?
Producers that like the analog look and that actually enjoy learning about routing while recording. Once they're facing real analog gear, they often know their way with cabling and routing thanks to Reason.
Click below to see prices for each version.
Up next…
4. Ableton Live
What makes Ableton Live so unique…
Is the fact that it was originally designed as an instrument for live performances.
And while it has since evolved into a complete recording package…
Seamless live performing is still one of its primary goals.
This fact is clearly demonstrated, first, with a visual interface that fits entirely on a single laptop screen.
And second, by the MANY 3rd party hardware controllers designed specifically for the software.
The most popular ones include:
Who uses Ableton LIve?
Electronic musicians who perform live a lot and want to be able to write music in a non-linear way.
Click below to see pricesfor each version:
Up next…
5. MOTU Digital Performer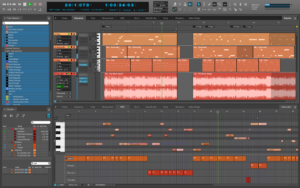 One of the oldest DAW's in existence…
The first version of Digital Performer appeared way back in 1990…
Originally as the front-end of a Digidesign system that would later become Pro Tools.
Earlier "MIDI only" versions of the software existed as far back as 1984.
Throughout that time, Digital Performer was known famously as the "Mac only" option.
Which is big deal, since back then, and even more so today, the large majority of audio professionals love Apple.
Still, for that reason, they probably missed out on a lot of potential users. But no more…
Because with their latest release, they've finally made themselves cross-compatible with Windows as well.
I suppose it's about damn time, huh? 🙂
Who uses Digital Performer?
Of course this is not comprehensive but mainly people who work with video and need the best DAW for scoring integration;
Check it out:
Moving on…
6. Steinberg Cubase
The OTHER "old-timer" on this list…
The original version of Cubase was released by Steinberg back in 1989, which at the time, was MIDI only.
Not long afterward in 1992, they released TWO major advancements to the software…
Adding BOTH support for audio, and Windows compatibility.
From that point forward, they continued to refine the technology, contributing several major advancements to the music industry along the way.
Their greatest claim to fame was their introduction of VST plugins in 1996, and VST instruments in 1999, both of which became industry standards for many years after.
And even today, Cubase has managed to somehow remain just as relevant as they have been for the past several decades.
Click below to see prices for each version:
Next up…
7. Cockos Reaper
Founded back in 2004…
The developers from Cockos Incorporated began the process of building Reaper (Rapid Environment for Audio Prototyping and Efficient Recording)…
With a unique bootstrapping business model that quickly positioned them as the top "alternative" to the mainstream DAW software.
With no advertising budget, Reaper was able to build its popularity almost entirely through word-of-mouth from enthusiastic users who loved in the product.
The first big selling point of Reaper is its extremely frequent update releases, which add improvements based on the feedback of users.
The second selling point is its price structure. As of now, there is only one version of Reaper, which can be downloaded for free, and offers full unrestricted use with no time limit.
Their only request, is that after 60 days of using their software…you purchase either a $60 discounted license for private use, or a $225 commercial license if your business is making money.
And yes…I said "request". Their entire business model is based on the honor system of their customers. Yet somehow, Reaper is still far cheaper than virtually any other DAW on this list.
To download the free trial, or purchase a license, click here.
Up next…
8. Apple Logic Pro
Back in 2002, a small company known as Emagic built the first version of Logic…
Which must have looked promising to Apple…
Because they bought it soon afterward.
And it turned out to be a great investment, because since then Logic has grown to become one of the top DAW's in the world.
No surprise, it is the only DAW on this list NOT compatible with Windows.
And while PC users might complain, Mac users can rejoice. And here's why:
By keeping it a "Mac only" platform, Logic users are assured that virtually any audio interface compatible with Mac OSX will work with Logic as well.
And since these days Macs are so damn popular with musicians…
Audio interface makers know that OSX compatibility is a MUST. Ultimately this means a TON of interface options for the end users.
Who uses Logic?
People who already use a mac and don't want to pay a Pro Tools or Ableton premium, since Logic is the cheapest of these 3, and people who have been using Garageband for some time and want to keep using an Apple software.
Where to get Logic Pro
For the latest version of Logic Pro X, you need to visit the App Store and purchase the digital download.
Up next on the list, the king of all DAW's…
9. Avid Pro Tools
"Industry Standard"
Don't lie, both you and I know this is the first thing that comes to your mind whenever you think of Avid's Pro Tools.
That's what people who advertise it and use it say anyway.
But have you ever wondered why and how it actually became – in fact – the industry standard?
Well, in short it's due to Digidesign (Avid's former name) sending free copied of Pro Tools to big recording studios back in the early 90's.
So you probably get the point: no, Pro Tools doesn't have any breakthrough/exclusive feature that would be vital for any major studio or producer…
It's just the option that got popular over the years… And remained so.
Be aware though, that Pro Tools also has more haters than any of the DAW's on this list (and some of them may even have valid points)…
Which would make sense it is the most popular DAW.
But all this really means is that no DAW software is perfect, and each one has both its stronger and weaker points.
So is Pro Tools right for everyone? Of course not. But if you're a complete beginner, and you really have no idea what to start with, I'd strongly recommend it as a good default option.
Currently, there are 3 versions of Pro Tools available:
Pro Tools First – the beginner version, which is totally free, and can be downloaded here.

Pro Tools

– the intermediate version, ideal for independant musicians. Click here to download it
Pro Tools Ultimate – the professional version, which offers much more features then the regular version and is ideal for professional recording studios. Click here to download it.
So…Who uses Pro Tools?
Essentially all commercial studios and established industry players as well as people who want to get used to – you guessed it – the industry standard.
I recommend starting with the regular version of Pro Tools if you can afford it. And if not, use Pro Tools First instead.
Next up…
10. Bitwig
Here's a DAW you might have never heard about, yet…
And for good reason: Bitwig is a "side project" from Ableton's devs…
Version 1 was released in 2014, which makes it one of the youngest DAWs around.
Yet many of its users agree that THIS is the next generation DAW.
But being young hasn't kept it from growing in popularity though. And the producers that use it essentially all praise it for the same reasons:
Dual sequencer – Bitwig allows for using both the clip launcher and the classic arranger together, for a unique and greatly simplified workflow.
Modulation – Probably the biggest reason Bitwig users only swear by it, Bitwig is the only DAW so far to offer a complete modulator. Modulation allows you to add unique movement and color to your sounds with extremely deep levels of setting.
Automation – automation in Bitwig is directly connected to your tracks, making it extra simple to choose an automation feature, as opposed to searching for it in a crowded menu in other DAWs.
So a bit more about the modulator:
Imagine you call up a VST, route it to the modulator and then tweak it ANY way you want, applying modulation effects to it directly.
This is an exclusive feature to Bitwig and it's pretty powerful. Check out this short video to have a better idea of what I'm talking about:
To sum up modulation, you could say it is the best way to make electronic music sound more human and more unique.
So…Who uses Bitwig?
Funnily enough, if you start asking Bitwig users why they use it…
You'll quickly find out that for 90% of them, they're actually frustrated Ableton users.
Which makes sense considering the devs themselves left Ableton for the same reasons.
But apart from ex-Ableton users, Bitwig's other biggest target audience are without a doubt elecproducer
And for our next pick, I wanted to choose a very unique and different DAW…
11. Renoise
Probably the most weird-looking and confusing DAW out there…
Renoise is the ONLY one with a vertical timeline. That's right.
And the reason for this choice is because Renoise is actually a tracker.
For the little story, trackers are a unique type of music making software that appeared in the early 90's with the demo scene…
When highly skilled coders with zero musical knowledge understood they needed some way to create music to accompany their graphic creations.
The result was essentially a music software based on worksheets, made for programmers/nerds.
It ended up being used for specific types of music such as jungle, EDM or anything with highly chopped samples.
So although trackers differ from classical DAW big time, they're still made to produce music, which is why I wanted to include Renoise in the list.
Now, if you're wondering if there are other trackers out there, well, yes there are.
Are they as good as Renoise? Well, not really…
And the reason is that Renoise is packed with features such as DST and MIDI compatibility… And is actually considered a hybrid between a DAW and a tracker.
This means you do end up with the features you typically have on a classical DAW:
Proper VST integration – the process of using VST is much simplified compared to other trackers, not to say some of them simply don't support VSTs
Mixer – it's actually the only tracker to offer a real mixer
High quality sampler – compared to other trackers such as OpenMPT, Renoise's sampler is on another planet.
Without getting into too much details, Renoise is all in all a much more convenient and easy to use tracker.
Now if you want to have fun with a really unique hardware device, check out the Polyend Tracker.
Essentially, it is a hardware tracker, half-way between a synthetiser and a DAW — or maybe more like a hybrid of the two.
To see it in action check out this video:
Check it out:
Anyways that's the list, hope you enjoyed it. 🙂
Installing DAW Software On Your Computer
Once you've chosen a DAW for your studio, next comes the difficult process of actually installing it.
And when I say difficult, I mean DIFFICULT!
My first time took me a full two days of work before finally getting things working. Ask any old-timer what his first time was like, and he'll probably have a horror story for you as well.
Just know that a little frustration here is typical, and it does NOT mean your DAW sucks. That's just how they are sometimes.
Be patient, and know that you only have to do this once.
Then again, it's been years since I've had to do it myself, so maybe it's no longer as hard as it once was.
Parting Words
If you've reached this far in the article, thanks for sticking by!
I would still like to say that, at the end of the day it doesn't really matter which DAW you use.
Yes some are better for a given music genre, yes some might be better for live music but it really comes down to personal preference.
Someone that's been mixing and editing on Logic for 20 years will obviously prefer Logic…
Just as someone who's been producing on FL Studio for 20 will.
But don't expect your mix to automatically "sound better" just because you're using one DAW over another, because that won't happen.
You might however need to try a few DAWs out before eventually finding the one you're most comfortable with.
That being said I wish you good luck on your journey 🙂
Related Content: