Today's awesome "music-talk" topic: Microphone Stands.
Here's a few of the juiciest "insider secrets" you're about to discover:
The 6 Little-Known Categories of Mic Stands (And How to Avoid Wasting Money on the WRONG one)
The Suprising Differences Between a $50 Mic Stand and a $500 One (How Much Should You Really Be Spending???)
The Two Best Microphone Stand Brands… Period. And Why Pro Studios Will Gladly Pay Top Dollar For Them
PLUS… 5 Weird Mic Stand Accessories That You'll Absolutely Love (I Actually Own Seven of #3)
Best Part: Just a few minutes from now, you'll know this topic inside-n-out – and find exactly what you need for your setup… Guaranteed.
Ready? Here we go…
The 6 Types of Mic Stands: What Are They For?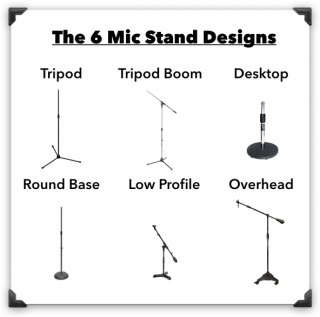 The 6 most common categories of microphone stand designs are as follows:
Tripod Stands

– which are most common and designed for general-purpose use.
Tripod Boom Stands – which add a boom arm for more positioning options than standard tripod stands.
Round Base Stands – which are ideal for singers on stage, because they use less floor space and are harder to trip over than tripod stands.
Low-Profile Stands – which are commonly used for kick drums, and guitar cabs.
Desktop Stands – which can look similar to low-profile stands, but are intended more for podcasting and bedroom recording.
Overhead Stands – which are the largest and most expensive of all stands, and are used in professional environments, where extreme heights and angles are required, such as with drum overheads.
Up next…
How Much Should You Spend on a Microphone Stand?
With an extremely wide price range among models, microphone stands typically vary between $10 to $500+.
Which is an insanely wide range, considering that they all look exactly the same in product product pictures, and rarely have any unique features worth mentioning.
So the only decent way to distinguish between the good and the bad, is to try them. The problem is…you can't just go to your local music store and try a stand to see how good it is.
Because you need to use it for several weeks or months before really knowing if it's your best friend, or worst nightmare.
Since you obviously can't do that with every stand, a much faster alternative is to simply trust the recommendations of other musicians like yourself…who have already tried them out.
So up next…
The Best Cheap Microphone Stands under $50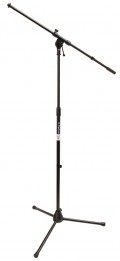 If cost is your main priority, there's really no good reason that you should have to spend over $50 for a reliable microphone stand that gets the job done.
However…when shopping for stands in this price range you need to be especially careful, since many are quite awful.
Yet there are plenty of good options as well, as you can see from countless positive user reviews.
So here are some links to the top 2-4 models in each of the stand categories we covered earlier:
Tripod:
Tripod Boom:
Round Base:
Low Profile:
Desktop:
Overhead:
Up next…
Our Favorite Mid-Range Microphone Stands ($50-$100)
Moving up in price range, we're now going to cover a class of mic stands that is more appropriate for the serious amateur, or entry-level pro.
For these types, who use their gear at least on a weekly basis, it makes sense to invest a bit more for some added security, durability, and functionality.
For example: Very often, cheaper stands will gradually sag when positioned at extreme angles. Which is frustrating after you've worked so hard to find the exact perfect mic position.
From experience though, I can say that once you start spending over $50 or so on a microphone stand, it's much rarer to encounter that issue.
So for MOST of the people reading this post, this is the target range of stands I'd ideally recommend.
Here's the list:
Tripod:
Tripod Boom:
Round Base:
Low Profile:

Desktop:

Overhead:
Up next…
The Top High-End Professional Mic Stands ($100+)
It sounds shocking when you first discover that a microphone stand can sometimes be more expensive than the microphone itself.
And the truth is, for the large majority of musicians, these types of stands are in fact overkill.
However, since pro studios are always more than happy to pay top-dollar for them…they're undoubtedly worth every penny, to those who can afford them.
Now there are only a few companies that make these types of high-end stands, the most notable ones being: K&M, Atlas Sound, and Ultimate Support.
These are our favorite models in each category:
Tripod:
Tripod Boom:
Round Base:
Low Profile:
Desktop:
Overhead:
Up next…
5 Microphone Stand Accessories You'll Love
Despite the fact that almost all microphone stands are utterly lacking in interesting new features…
These days, there's a surprising number of fascinating stand accessories that are super cheap, but add a ton of functionality to your otherwise boring microphone stand.
And here are 5 of our absolute favorites:
A Tablet Mount for your iPhone or iPad
As technology becomes more and more integrated with our lives as musicians…
It's increasingly common to need your phone or ipad when performing or recording in the studio.
Some use it to read lyrics or voiceovers. Others use it to control their DAW's with remote apps. And others use it to live stream for their fans.
Whatever your reason, the easiest way to incorporate any type of screen into your setup is with a mount such as the iKlip 3, which comes in several versions:
Up next…
A Mini Boom Arm to Attach a Second Microphone
Oftentimes, one microphone stand is simply not enough for one person.
A classic example being: a singer/songwriter who wants to play/record guitar and vocals at the same time.
Really though, there's an infinite number of reasons why you might want 2 (or more) mics, without dealing with the hassle of 2 or more stands.
So to solve this problem, many musicians simply attach a side-mount such as the On-Stage Posi-Lok Sidemount Boom.
Check it out:
Up next…
A Headphone Rack for Convenient Daily Storage
In many home recording studios…headphone storage is a constant irritation.
Where are you supposed to put the damn things when they're not on your head?
In a small room with limited space, this question is a lot harder to answer than you'd think.
A convenient solution however, is a clip-on headphone rack such as the K&M Clamp-on Headphone holder.
With this simple attachment, you just hang them on your stand…and they will be right there waiting at your next session.
Up next…
A Cup Holder to Store Your Favorite Beverage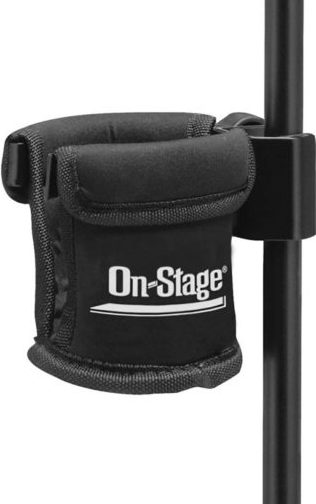 In longer recording sessions, it's always a great idea to have a beverage close by.
Whether that beverage is water or beer, is entirely up to you.
Either way, an extremely cheap and easy solution to this problem is the On-Stage drink holder…
Which mounts easily to your microphone stand (or any stand)
And keeps it safe and secure, far away from your precious gear.
Check it out:
For a dual cup holder, check out this instead:
Inovativ RoboCup Dual – (Amazon)
And finally…
A Side-Mount for Recording Guitar Cabs
When recording guitar cabinets, the standard solution is one of the low-profile microphone stands we mentioned earlier.
The big flaw with these stands though, is that they still take up floor space, which is scarce in a cramped home studio.
In addition, they're also quite easy to accidentally kick or trip over when performing on-stage.
A great hack to either of these problems is the Audix CabGrabber, which mounts directly to the guitar cabinet itself, eliminating the need for that extra stand.
Also check out these alternatives:
---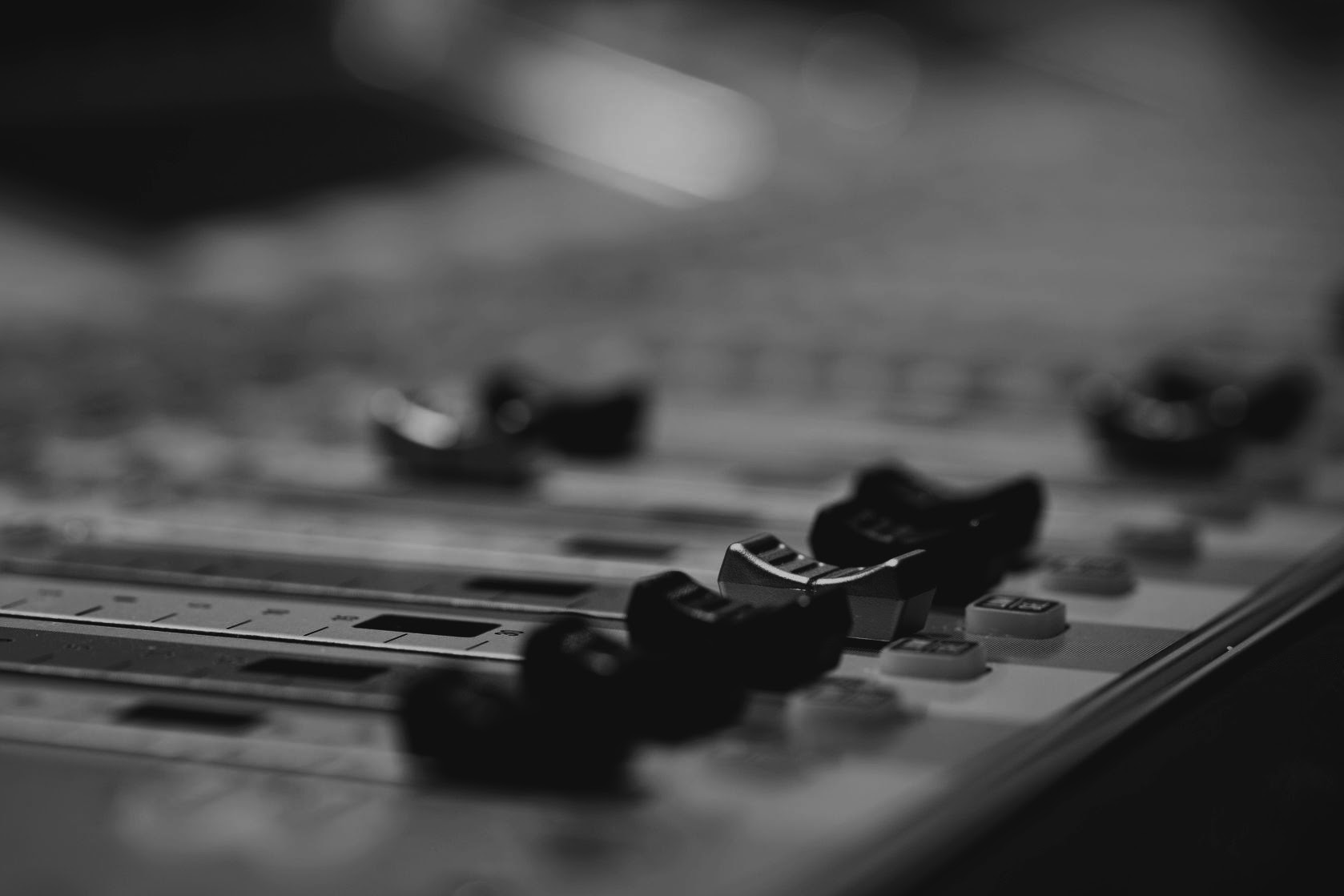 Home Recording Secrets:
The Complete 5-Chapter Blueprint to Building the Studio of Your Dreams – Faster, Cheaper, and Easier Than You Think