Whether you're starting a new home studio, or improving an existing one…
There's no single purchase more confusing than the audio interface.
Because among the dozens of options…
Each one is designed to meet the demands of a specific "type" of studio.
For example…
At one extreme, a small $100 interface might be perfect in a simple bedroom studio…
If all you need is a single pair of outputs for your studio monitors.
At the opposite extreme, a pro studio that requires dozens of INs/OUTs might need several interfaces, each costing $4000 or more.
However, with the recently growing trend of "prosumer" equipment, the audio interface offer has greatly shifted in the past few years…
And we've been seeing a multiplication
Needless to say, matching the right interface with the right studio is tricky even for the experienced.  And for beginners, its 10x worse.
Which is why for today's post, I've created an in-depth guide to help you find the perfect option for your studio.
So let's get started.  First off…
But before we dive right it, I'd like to address a recent phenomenon: the ever-growing rise of "prosumer" equipment.
But how does one quickly defines a prosumer device compared to a consumer or fully professional counterpart?
Well, according to Wikipedia it's anybody who "consumes and produces". By extension, this term started being applied to mid-range devices that are powerful enough for 99% of people.
As it turns out, audio interfaces are no exception and as a proof of the prosumer success, more and more professionals actually use audio interfaces that are way cheaper an way smaller that professional models.
Now that you know that, let's move on.
Next up…
Why Should I Get an Audio Interface?
I mean, let's be honest here: if you're a total newbie you're probably wondering what an audio interface really is, and why you should get one.
These are very wise thoughts, so let's address them briefly by first looking at what an audio interface IS.
An audio interface is a physical gate between your instrument and your computer.
So why do you need it?
Well, because it converts an analog signal that can't be processed by your computer (your voice, guitar, bass, keyboard or anything else)…
Into a digital signal that can be processed by your computer. This is done with an ADC (Analog to Digital Converter).
Conversely, it also converts your digital signal into — you guessed it — an analog signal . What for? Essentially so you can hear your mix back into your headphones or studio monitors with as much accuracy as possible.
Indeed, the — most likely — bad, low bit-rate built-in converter in your computer would lower your track's quality DRAMATICALLY.
The better the DAC (Digital to Analog Converter), the better the output. Pretty simple, right?
If you want to learn more about digital sound in general, check out this article:
Now, let's see what an audio interface ISN'T
An audio interface isn't a processing unit, meaning you can't use it to offload some of your computer's work on it…
Unless you actually choose an interface with DSP (Digital Signal Processing)  built-in, which is basically its own CPU that will process sound without requiring your computer to do so.
However and if you want my advice here, this is generally not an optimal idea unless you're planning to record on a laptop, which are generally less powerful than desktops computers.
If you want the smoothest experience, get a decently powerful desktop computer.
Ok so now that we have this out of the way, let's move on to the 5 key features you'll want to look for in your audio interface.
The 7 Key Features to Look For
Because of the fact that audio interfaces have so many features, it's difficult to know which ones matter, and which ones don't.
So let's talk about that now.  In particular, these are the 5 key specs to focus on:
DAW Compatibility
Interface Connectors
Input/Output (I/O) Count
Input Channel Types
Form Factor
Plug-Ins and Software
Meter
And here's why:
1. DAW Compatibility
In general, most DAW's work with most interfaces…but not always.
If you don't yet have a particular DAW that you are loyal to, then you need not worry here.
Because 90% of the top DAW's will be compatible with any interface you choose.
However if you already have a DAW you want to continue using, be sure to verify compatibility on the company's website.  And just to warn you, this info is often hard to find.
You would think they would just post DAW compatibility in the interface's product description, right?  But it rarely happens.  Usually it's buried somewhere within an FAQ page.
While it's not clear why this is done, my best guess is that these companies prefer not to advertise their current DAW compatibility, because they have no guarantees of future compatibility.
A particular interface might be compatible with your DAW today, but it may not be in a future release.  And while that's not likely to happen, it's always possible.
Which is why personally, I prefer to use a DAW/interface combo made by the same company.  Later in this post I will give you some good examples of these.
However, since there are only a few companies that make both, the downside to this solution is that it severely limits your options.
Up next…
2. Interface Connectors
When connecting an audio interface to a computer…
There are 4 cable options commonly used:
USB

 – which is typically seen on cheaper home studio interfaces, and offers the slowest data transfer rate.

Firewire

 – which is used on more expensive home studio interfaces, and offers a significantly faster transfer rate (nowadays these are becoming less common).

Thunderbolt

 – which has recently become popular with newer semi-pro interfaces, and is way faster than either USB or Firewire.

PCIE

 – which has long been the standard connection for professional interfaces, because it offers additional processing power and extremely fast data-transfer.
While USB is by far the slowest of all 4 options, it is still more than fast enough to get the job done for the vast majority of home studios.
So if you're on a budget, USB is what I recommend.
But whichever type you choose, remember to double-check that your computer has the appropriate connection.
For example, Thunderbolt is — at least for now — only present on macs and Intel based computers…
So if you're using an AMD computer you won't have this connection availble.
3. Input/Output (I/O) Count
On a typical interface, I/O counts can range anywhere between:
1-2 on a simple interface, to…
20+ on a professional one.
And the number you need for your studio depends mainly on the number of tracks you plan to record/monitor at once.
For example:
Solo musicians

 – may need only 2-4.
Songwriting teams – who work in small groups, want at least 4-8.
Engineers who record bands – should have as many as possible (16 at least).
Also…electronic drum kits alone can sometimes require 8 inputs if they offer separate channels for each part of the kit.  So take that into consideration if you plan on using one.
4. Input Channel Types
One thing recording newbies often fail to realize is…
When counting the input channels of an audio interface, manufacturers could be referring to any number of different input types.
However in almost all cases, it includes some combination of these 3:
Mic Input – which allows you to connect a mic directly to the interface.
Line Input – which requires the addition of an outboard mic preamp to be used as a mic channel.

Optical Input

 – which is a type of "digital" input that requires the addition of BOTH an outboard mic preamp, and digital converter w/ "optical out" to be used as a mic channel.
Now here's what this means for you:
If you want to use your interface "as-is" without adding a multi-channel mic preamp, you might have less available inputs than you think.
Because as you'll notice, interfaces often have 16 or more total input channels, but only 2-8 mic inputs.
So without any additional gear, the "real" number of inputs on your audio interface is the mic preamp count, NOT the same as the  input count.
Now that you know…make sure you actually have enough channels for your purposes.  Otherwise you will be sorely disappointed.
Optical inputs such as ADAT are convenient for expanding your interface's in and out total count, since one ADAT port can support as many as 8 channels.
NOTE: Two other input types that you should also look for are DI inputs (if you play guitar/bass), and MIDI inputs (if you use any type of keyboards/MIDI controllers).  
5. Form Factor
A fancy jargon term used by computer geeks…
"Form factor" simply refers to the physical size and shape interface.
The two form factor options are:
Desktop Interfaces – which are smaller, and sit on your desk next to your computer.

Rackmounted Interfaces

 – which are larger, and mount in a standard size rack unit.
For beginners, I recommend starting with a desktop interface, because they're cheap, easy-to-use, and require no special mounting or peripheral devices.  You just plug them in and start recording.
With intermediate/advanced studios, rackmounted interfaces are typically better, as they tend to offer more I/O's, as well as greater flexibility with signal routing and organization.
6. Plug-ins and Software
Plug ins replace your typical analog gear that you used to connect directly to your interface, back in the days when digital effects weren't a thing.
If you're looking for a specific one, make sure your interface can work with it beforehand.
Next up…
7. Meter
Most beginners don't even think about it being a big deal…
However, you might find it useful to monitor your signal level directly on your interface at a quick glance…
And since many entry level interface don't offer this feature, you'll want to make sure you need it, or not.
Advanced interfaces will often have a full size meter while some lower end models might only have a led — i.e. around the volume knob — that will turn red if your input level is too high.
Now that you know what to look for, let's check out some specific models.
And so to skip directly to the type of interfaces you're interested in, just click on these links:
And so for the first category…
Best

Desktop

Interfaces
For the vast majority of people reading this article, who only want a cheap interface that will allow them to record their music at home…
I recommend a 2-6 channel USB desktop interface, which normally costs between $50-$300 on the low-end, and $500-1500 on the high-end.
However, the audio interface landscape has changed a lot in the last decade and with the rise of "prosumer" products, the line between high end and low end devices is growing thinner and thinner…
Meaning that nowadays you can get your hand on a powerful, small AND affordable audio interface that will most likely meet your needs.
1. M Audio AIR 192 Series
The cheap, but not TOO cheap interface with a powerful preamp
Mostly known for their midi controllers, few people actually know that M-audio have been producing quality audio interfaces for over 20 years.
But in what's probably the MOST COMPETITIVE range of audio interfaces, they just never made it to the level of fame of the likes of PreSonus or Focusrite.
However, their more recent products have been met with so many positive reviews and user opinions that ANYBODY who is shopping for an entry-level audio interface can simply NO LONGER ignore M-Audio.
And for my first pick, I chose the AIR 192|4. Here's why:
Extremely quiet – It has one of, if not THE most quiet preamp of any interface in this price range
2 XLR/TRS combos – Ideal for solo artists. You can plug your mic and your guitar or line instrument and get recording rght away.
Very low latency – beginners often disregard this feature but trust me, recording with a latency can become unbearable and your interface will end up literally unusable.
Great for podcasters – Thanks to its powerful amp, this interface drives mics such as the SM7B nicely without the need of help (i.e. a Cloudlifter).
You get all of this right out of the box for around $100. Trust me, it's VERY hard to top that, and it's also the reason why I chose this interface over the most sold interface ever, the Focusrite Scarlett Solo.
The M-Audio Air series is available in 4 different sizes, all the way up to 14 I/O.
Who do I recommend this interface for?
You are a beginner on a budget looking for an interface that will allow you to record songs or podcasts with a powerful enough preamp to drive a typical podcasting dynamic mic. Check it out:
For a similar interface with pocket size format and with a loopback feature added that lets you stream both your mic and computer sounds, check out the extremely compact Audient Evo 4:
And in case you'd still want to check out the Focusrite Scarlett Solo, here it is:
Next up…
2. Audient Evo 4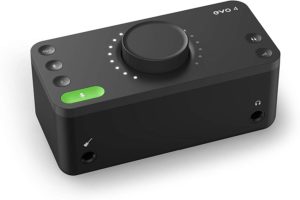 Here's a small yet very powerful audio interface, aimed at beginners.
In the sea of cheap and compact audio interfaces, the Audient Evo 4 has managed to stand out thanks to various neat features:
Great instrument line-  in sound – if you're planning on using your line instrument with this interface, rest assured it will deliver. This little thing sounds amazing on line instruments!
Loopback feature – although this feature is spreading out more and more, it is still HIGHLY appreciated on an entry level audio interface and adds to the use cases of this device
Powerful headphone preamp – pretty much unheard of on this range of audio interfaces, you'll be able to drive very high impedance headphones such as the HD 650 without adding another device in between.
Smart Gain feature – probably THE single most important innovation on this audio interface, forget about scratching your head while struggling to set up your gain correctly so you don't clip or peak.
So let me explain what this last feature is about:
You press the green button and the Evo 4 will records your voice or the sound source for about 10 seconds.
It will then take the loudest point of this sample and set it at around -12dBfs, meaning that after gain is automatically set, you will indeed peak at around this value…
Which happens to work surprisingly well.
Check it out:
If you need more inputs and outputs, check out the same model with 4 ins and 4 outs:
3. Solid State Logic 2
Stepping up our game a bit, how about a manufacturer with an actual mixing console expertise?
That's right, SSL was founded back in 1969, so needless to say they are a very experienced company.
As a matter of fact they are best known for their legendary 4000 SL and for being the first ever mixing console sold in the UK.
To give you an idea of how big they are, Abbey Road studios are now equipped with a Solid State Logic Console.
…But back to our SSL 2 audio interface. The unique feature of this interface is the 4K Legacy mode, which reproduces the sound of the classic 4000.
More specifically , it emphasizes higher frequencies and produces an overall crispier sound, which can be very nice for darker mics like the SM7B (Amazon/B&H/Thomann) for example.
Moreover, the SSL 2 offers:
Extremely flat frequency response – this interface's curve is impressively flat, and it guarantees a high fidelity sound.
Very high dynamic range – dynamic range is the range between
Low-noise preamp – with a low noise preamp you won't need any additional device to shut the preamp's noise down when recording
Check it out:
Now, if you're charmed by the SSL2's preamp and overall quality but you find it a bit lacking in terms of outputs, check out the SSL 2+ that offers double the output count, so you can add in another pair of headphones or monitors:
Next up…
4. Antelope Zen GO Synergy Core
For our next pick  I wanted to choose a "prosumer" interface. So let's quickly recap the features of prosumer devices:
Professional grade features and build quality
Moderate price
Easy to use
Well, the Zen GO Synergy Core checks all those requirements… And much more.
Now, the biggest strength of the Zen GO is probably its real time audio processing, the so-called Synergy Core feature.
In short, it is a very powerful, real-time effect application powered by FPGA processors. These are essentially programmable little units that allow for highly customizable effects.
The result is an extremely high-fidelity reproduction of very rare, old and expensive analog devices such as synthesizers or .
Last but definitely not least, this feature actually doesn't use any processing power from your computer since it uses the Zen GO's own 4 ARM CPUs.
Other features include:
Perfectly flat frequency response – the curve is actually perfectly flat, even way under and above the human hearing range
Loopback feature – this allows you to route the monitoring mix back into your interface and computer. Very handy for streamers who want their audience to hear them and their computer for example
High dynamic range D/A conversion – thanks to a very high dynamic range, the D/A conversion on the Zen GO produces an insanely high quality sound.
Check it out:
And for our last pick in the desktop interface category…
5. RME Babyface PRO FS
The new "prosummer" standard
You now how sometimes a product is so good it just becomes virtually impossible finding a single negative review on it?
Well, that's exactly the RME Babyface's situation.
In a nutshell, it is currently considered by many as the single best desktop interface currently available.
Actually, RME has a pretty hardcore fanbase, and rightfully so.
They consistently put out some of the best hardware coupled with the best software and drivers, on both Windows and Mac.
There a many reasons for that, but here are the most important ones:
Best pre amp
Extremely sturdy and well built –
SteadyClock FS Technology – as per their words: "this is the reason our audio interfaces have such a pristine sound". Among multiple other features, this wordclock makes this interface "immune" to self jitter and provides a "FemtoSecond Accuracy"– which is essentially digital latency.
Many different plugins included – Scuffham guitar amp simulator from Brainwox optical like compressor, you get over $100 worth of plugins.
But the core strength of the Babyface PRO might actually reside  in TotalMix FX. This routing software essentially saves you the cost of buying a full-on mixing console.
For an in-depth guide on how to use TotalMix FX, check out this article.
Finally, the Baby Face PRO FS is also compatible with iOS devices and works thanks to a dedicated app.
Check it out:
For a similar model, both in  terms of features and popularity, chec out the Universal Audio Apollo Twin:
Next up…
6. Antelope Zen Tour Synergy Core
The Ultimate desktop interface
If you've been in the audio industry for some time, you might know Antelope as the biggest master-clock manufacturer.
It turns out they also released what's considered by many as the ultimate, best desktop interface.
Now, this is an interface that's more expensive than most rack interfaces, and pretty much priced the same as pro interfaces…
And this is due to 2 main features:
A massive amount of DSP-powered plug ins – Amp simulation, effects, you name it, this unit is PACKED with tons of plug ins, and really good ones at that.
More connectivity capability than any other desktop interface – with 4 mic preamps, 2 headphones, 2 reamp boxes, this interface was definitely designed with collaboration and band practice in mind.
Insane routing capabilities – thanks to the routing matrix, say goodbye to complex outboard routings. the possibilities are virtually endless.
If you're wondering exactly how the routing matrix works and how it can help you, check out this video. I linked it to where routing possibilities are explained and demonstrated:
Now let's be clear: this interface is NOT directed at newbies, unless they have unlimited budget.
But the fact you can record up to 8 musicians simultaneously, reamp your guitars and perform powerful routings is a game changer for many home studio producers and musicians…
ESPECIALLY in such a compact, desktop format.
So if that sounds like something you'd find use out of, check it out here:
Next up…
Best 

rackmounted

interfaces
7. Behringer Euphoria UMC 1820
It would be hard not to start this category with the Behringer UMC 1820 , partly because it is after all the most sold rack format audio interface.
Ok that's nice and all but why is it actually so popular? Well, there are a few reasons:
It's the best value you can get – 8 channels with great sounding preamps in a rack format for $200? Yeah, that's pretty hard to beat.
It has a no frills design – it might be greedy in terms of features, but if you're looking for a simple, super affordable, straight forward interface, this is the one.
So all in all a great build quality, great sounding preamps and extreme ease of use: the perfect rack interface for home studios on a shoestring budget.
Check it out:
Next up…
8. PreSonus 1824c
Second on the rack category, the Studio One PreSonus 1824c is considered by many as the ultimate "bang for your buck" audio interface.
Although not everyone will be a fan of its design, the fact is that for anybody looking for a reliable rackmounted interface, it's hard to beat the 1824c.
Its main feature sinclude:
XMAX mic preamps – these preamps are appreciated for their

high headroom

, with a whopping

80dB gain

and

neutral coloring

8 XLR/TRS combo ins + 8 extra inputs through ADAT – for plugging your line instruments or mics
StudioOne ARTIST included – PreSonus' acclaimed DAW is included with this interface
Who do I recommend this interface for?
Home studio owners looking to gently up their game with a rack format interface offering crazy high gain, and who need lots of inputs so they can record many channels at the same time.
Check it out:
Next up…
9. MOTU UltraLite-MK5
Although it doesn't have the typical rack format, the MOTU UltraLite-MK5 has separate brackets that can be mounted on it to fill in the gap.
You can even mount 2 UltraLite-MK5 side by side for double the in and out count.
On top of its really cool look, the UltraLite mk5 has a unique OLED screen. Although this is an uncommon choice as most competitors usually go for a regular LED screen…
What this give you is a super detailed screen, perfect for monitoring input, output and headphone volumes.
Priced well under the $1k psychological mark, the MOTU UltraLite-mk5 delivers unbelievable sound quality, that many professionals compare to interfaces 4 times as expensive.
Its secret? Mainly 2 things:
Huge preamp gain range: with a whopping +74dB gain, forget about any additional device to power even your most demanding dynamic mics (looking at you Shure SM7B).
Possibility to connect further analog gear – thanks to its 10 line out ports you'll be able to add an analog compressor, EQs, effects, preamps, you name it.
Integrated DSP – remember we talked about DSP earlier? Well this interface has it, meaning you'll be able to offload a significant amount of processing power from your computer to the interface.
Powerful software – customize your DSP settings, mixes and much more directly from the software interface.
Who do I recommend this interface for?
Newbies with the budget that want to buy an audio interface they'll be forgetting about for the next 20 years, but that'll still allow them to upgrade their other equipment as they gain experience.
OR
Advanced sound engineers looking for a compact, scalable and powerful audio interfaces that will cover 99.9% of their studio needs.
Check it out:
And That's It
So there you have it, the very best Audio Interfaces currently available on the market.
I hope you found the right one for you!
'Til next time 🙂