If you're shopping for an audio interface for your home studio…
But not quite sure what you're looking for, or how to tell the difference between one and the next…
You've come to the right place.
Because in this ultimate guide, you're about to get a crash-course on everything you'd want to know about this essential tool for your studio.
So here's what we're about to cover:
First up…
So…What Exactly Does an Audio Interface Do?
When first shopping for audio interfaces, many newbies are unclear on exactly what an audio interface actually is, and why they need one.
So very quickly, let's clear this part up before moving on.
The audio interface is the device that allows the DAW software on your computer to communicate with your other physical devices.
Which mainly means that it allows you to:
Record sound – from your microphones and instruments
Listen to your mixes – on your headphones and studio monitors
And that's pretty much it. Moving on…
Is Your Audio Interface Compatible with Your DAW?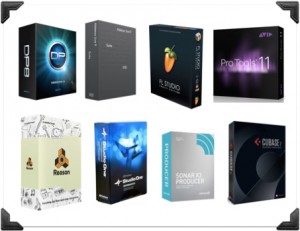 In general, there's probably a 90% chance that your audio interface will be compatible with any of the top DAW software.
But if you already have a DAW you like, it's probably best to verify compatibility on the company's website, just in case.
For some reason, this info is often hard to find, and is usually buried somewhere within a FAQ page.
If I had to guess why…I'd assume that companies prefer not to advertise their current DAW compatibility, because they have no guarantee of future compatibility.
A particular interface might be compatible with your DAW today, but may not be in a future release. And while that's not likely to happen, it's always possible.
Which is why personally, I prefer using a DAW/interface combo made by the same company.
Unfortunately, the options here are limited, so you will likely have to compromise.
Up next…
Which Digital Connectors Are The Fastest?
To connect your audio interface to your computer, there are 4 types of cables commonly used:
USB

– which is typically seen on cheaper home studio interfaces, and offers the slowest data transfer rate.

Firewire

– is faster significantly faster than USB, but far less common these days

Thunderbolt

– which is increasingly popular with newer semi-pro interfaces, and is way faster than either USB or Firewire.

PCIE

– which has long been the standard connection for professional interfaces, as it offers additional processing power and extremely fast data-transfer.
While USB is the slowest of all 4 options, it's still fast enough to get the job done for the vast majority of home studios. So if you're on a budget, it's what I recommend.
Ideally though, try to go for a thunderbolt, as it will likely become the standard connector of the future.
But whichever type you choose, remember to double-check that your computer has the appropriate connection.
Up next…
How Many Ins/Outs Do I Need for My Studio?
On typical audio interfaces, I/O counts can range anywhere between:
1-2 on a simple interface, to…
20+ on a professional one.
The number you need for your studio depends mainly on the number of live tracks you plan to record/monitor at once.
For example:
Solo musicians

– may need only 2-4.
Songwriting teams – who work in small groups, want at least 4-8.
Engineers who record bands – should have as many as possible (16 at least).
And electronic drum kits, (which is an amazing tool to record realistic drum tracks in a home studio)…will sometimes require up to 8 inputs for each part of the kit.
However…for the vast majority of people reading this article, who only want a cheap interface that will allow them to record their music at home…I recommend a 2-6 channels a good versatile target range.
Up next…
Mic

Inputs vs

Line

Inputs vs

Optical

Inputs
When counting up the input channels of your audio interface, manufacturers are usually referring to some combination of the following 5 input types:
Mic – which allows you to connect a mic directly, and boost the signal with an internal preamp
Line – which requires a "pre-boosted" signal, such as from a mic preamp or keyboards
Optical – which can receive up to 8 digital channels at once, usually connects with an external multi-channel preamp
DI – for connecting electric guitar/bass
MIDI – for connecting keyboard controllers to use with your virtual instruments
And so…depending on your other gear available, you may or may not be able to use all of these connections.
If you mainly record with microphones, and don't have an external mic preamp, take note of the mic premp count on your interface, as that will determine the number of mics you can use simultaneuously.
Up next…
Desktop

vs

Rackmounted

Audio Interfaces
As we go through our top interface pics in just a moment, you'll notice that they come in two general sizes:
Desktop – which are smaller, and sit on your desk next to your computer.
Rackmounted – which are larger, and mount in a standard size rack unit.
For beginners, I recommend starting with a desktop interface, since they're cheaper, easier-to-use, and require no special mounting or peripheral devices. You just plug them in and start recording.
With intermediate/advanced studios, rackmounted interfaces typically work better, as they offer more I/O's, and more flexibility with signal routing and organization.
Up next…
The Best Audio Interfaces Currently on the Market
Now that you know what to look for in good audio interface, we'll now compared the top models currently on the market.
First up…
The Perfect Cheap/Simple Interface for Solo Work
While not typically known as a maker of audio interfaces…
M-Audio somehow currently holds the leading spot in this most competitve range of models, targeted at beginners.
Their Air 192 Series has been met with so many positive reviews and sales, that it has clearly become a game-changer in the entry-level market.
Notable features of these interface include:
2 XLR/TRS combo inputs – which is perfect for solo artists who sing/play guitar…for example.
A Powerful Preamp – Capable of driving heavy dynamic mics such as the popular SM7B used by podcasters
Extremely quiet preamps – which allow for crystal clear recordings
Very low latency – which allows you to monitor your playing with effects added, without hearing a weird delay in your headphones
It als comes in 4 different sizes, depending on you I/O count needs.
As a solo musician, youtuber, or podcaster first starting out, there's really no better option than this one. Check it out:
And for a good alternative in this category, also check out the Focusrite Scarlett Solo (which is actually the highest selling interface ever).
Up next…
A Minimalist Interface for Mobile Studios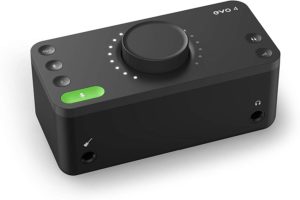 These days, since mobile studios are becoming more and more common…
The demand for an extremely compact setup is as high as its ever been.
And as you can see from the picture, the Audient Evo 4 clearly meets that demand perfectly.
Notable features of this audio interface include:
An Unusually Powerful Headphone Preamp – which can easily drive very high impedance headphones such as the Sennheiser HD 650
Smart Gain Feature – which automatically sets the right gain level for your voice or instrument, without you having to play with any settings.
Which happens to work surprisingly well.
Check it out:
For additional I/O, check out Evo 8 with 4 ins and 4 outs:
Up next…
An 8-Channel Rackmounted Interface for Beginners
While desktop interfaces are generally associated with home studios…
There are many beginners on a budget that still need more I/0 than they can provide.
The problem is, most rackmounted audio interfaces are overkill for a home studio. There are however, some exceptions. The most notable being the PreSonus 1824c.
As the highest selling rack interface today, it's the obvious choice for anyone in need of maximum channels at a minimum price.
This is possible, as you might expect, because there are none of the fancy features that you might see from some of the other interfaces on this list.
The fact that it's so popular tells you a great deal about what most musicians today actually want. If you agree with them, this may be the interface for you.
Check it out:
For a similar alternative in this category, also check out:
Up next…
A New Interface from a Legendary Name In Pro Studios
Founded back in 1969, Solid State Logic has been the standard of professional mixing consoles for many decades…
Including world famous studios used by rock n roll legends…such as Abbey Road Studio in the UK.
SSL consoles in studios such as these commonly fetch prices of $250k or more.
Nowadays, SSL has brought their legendary console sound to the home recording studio market as well, with the SSL2.
The unique feature of this interface is the 4K Legacy mode, which reproduces the sound of their iconic 4000 console.
Contrary to many of the interfaces on this list, which boast new and unique features, the greatest selling point of this model is it's overall sound performance, including:
Extremely flat frequency response
Very high dynamic range
Low-noise preamp
Check it out:
For a larger version of this interface with a higher I/O count, check out this model instead:
Up next…
An Interface With Its Own Effects Processing
Historically, audio interfaces have assumed the job of getting sound in and out of your computer…
While leaving the processing work to the computer itself.
The Antelope Zen Go Synergy Core however, assumes some of the processing for itself…
With its own 4 ARM CPU's, which their "Synergy Core" feature that allows for real-time effects processing.
One interesting effect worth noting, is its reproduction of very rare, old and expensive analog devices.
Other features include: an exceptionally flat frequency response, and high dynamic range digital conversion, which are both must-haves in today's new generation of audio interfaces.
Check it out:
For the larger (and pricier) version, capable of recording up to 8 musicians simultaneously, check out this model instead:
Up next…
The New Standard in Prosumer Audio Interfaces
As the line between professional and home recording studios continues to blur….
We see more and more products like the RME BabyFace PRO FS, which deliver pro level features in a compact desktop body.
According to pretty much the entire internet, it's the single best desktop interface currently available, with practically zero negative reviews.
Notable features include:
SteadyClock FS Technology – which makes the interface's wordclock immune to self jitter and provides a "FemtoSecond Accuracy".
iOS compatibility – with its own dedicated app
TotalMix FX – an advanced routing feature capable of many functions that would normally require a full mixing console.
Check it out:
For an alternative model with similar features, also check out:
Related Content: