The time comes for us all when the mic preamps of our audio interface no longer cut it…
And we need something MORE.
For some, it's because they need more channels to record bands.
For others, it's because they want ONE premium channel to make their vocals shine.
Whatever YOUR reason, in this post, I've got you covered.
Because, of the 9 preamps I'll share with you today…
I've chosen 3 great options in each of the following categories:
Multi-channel BUDGET preamps
Multi-channel HIGH-END preamps
Single-channel preamps
So here we go…
Multi-Channel Budget Microphone Preamps
To record bands, having an audio interface with enough input channels is a MUST, right?
But since most interfaces don't have a mic pre for every channel, you ALSO need a multi-channel mic preamp as well.
Among the best affordable options for home studios, these are my 3 favorite:
1. Presonus Digimax D8
If good, cheap gear is what you want…
There's no company out there better than Presonus.
And they demonstrate this fact definitively, with the Digimax D8.
The cheapest preamp on this list, it has all the key features you want, including:
8 mic pre's
2 DI inputs
A pad on each channel
24-bit/48kHz digital conversion
Unlike some preamps, the D8 keeps all mic inputs on the back, allowing the front of your rack to stay nice and clean.
To keep the back of your rack clean, it has an ADAT out which can send ALL 8 channels to your interface in a single digital cable. And if you prefer 8 TRS outputs, it has those as well.
My one criticism of the D8 is…
The phantom power switches are on the back panel, which makes them hard to reach once the unit is mounted in a rack.
Personally, I prefer them on the front. Which is why I like this next option even better…
Note: it seems Presonus have discontinued the Digimax D8 and they don't offer an 8-channel preamp in their product range anymore, which is why I recommend the following model from Behringer:
Up next…
2. Focusrite Octopre MkII
With the same basic features as the Digimax D8…
The Focusrite Octopre MkII takes things one step further…
By adding digital conversion up to 96 kHz.
At this sample rate, ADAT outputs carry only 4 channels of audio, compared to the usual 8 channels at 48 kHz.
This means that the Octopre MkII includes 2 ADAT outs, rather than just one.
And while the previous brand we've seen (Digimax) isn't well-known for its preamps… Focusrite definitely IS.
So that's another bonus as well.
3. TASCAM Series 8P Dyna
If you're looking for a feature-rich, affordable multi-channel preamp…
Then the TASCAM Series 8P Dyna may be exactly what you're looking for.
It has ALL the same features mentioned of the Digimax D8, with a bunch of usefull extras as well.
Compared to the D8, which only offers a gain control and pad on the front panel…
The Series 8P Dyna also includes:
A dedicated compressor knob on each channel
2 Instrument outputs
Digital I/O for even more channels
Analog DB25 and 8 TRS outputs for use in a professional studio setting
Word clock connection
Sample rate selector
And since the phantom power switches are out front, you won't have to crawl behind your rack every time you switch out a condenser mic.
For a few extra bucks…the Series 8P Dyna could be exactly what you're looking for.
Up next…
Next let's move on to some pricier options…
Multi-Channel High-End Microphone Preamps
Many folks believe, that to TRULY hear the full potential of your microphones…
A great preamp is a MUST.
And while few of us can afford the BEST there is, for those who CAN, here's what I recommend:
1. API 3124V
The curious thing about high-end microphone preamps is…
If you notice, they don't have nearly as many features as the budget models.
Yet they cost several times as much. Here's why:
A common philosophy in pro audio equipment is:
Budget gear typically does many jobs decently, and…
High-end gear does ONE job extremely well.
The API3124+ is a great example of this fact. One look at the front panel and you see how incredibly simple it is.
It has 4 channels, with 4 DI inputs, all the standard buttons, but nothing unusual. Except of course, for how it sounds.
Using the same legendary preamp circuits found only in classic API consoles, the API3124+ delivers a level of quality unmatched by any preamp we've covered so far.
If you can afford it, you're unlikely to ever find a microphone preamp better than this one.
Up next…
2. Solid State Logic Alpha VHD
Best known for their ultra-high mixing consoles…
Solid State Logic (SSL) has been among the top names in pro audio since their founding back in 1969.
More recently, with the rise in popularity of home studios…
They've expanded their line to include many smaller products still offering their same standard of quality.
One of their best recent creations is the Solid State Logic Alpha VHD, which features the same preamp circuits used in their flagship Duality console.
At first glance, the front panel layout looks like a more modern version of the API3124+. But there is one feature in particular that truly stands out…
Known as Variable Harmonic Drive (VHD), this control adds 2nd and 3rd order harmonic distortion, and allows you to blend it however you wish.
For those who don't know…
Second order harmonics have a smoother "tube-like" distortion, while third order has harsher "transistor-like" tone.
As far as I'm aware, no other microphone preamp on the market offers this same incredible feature.
Up next…
3. True Systems Precision 8
Since many setups need more than 4 extra channels…
I figured I'd include at least ONE high-end 8-channel preamp to make everyone happy.
The problem is…on a list of the best 8-channel preamps in the world, few go for less than $5000.
However, the True Systems Precision 8 is one of the few exceptions that only cost around half that.
Other than its incredible sound, it also offers 3 entirely unique features worth mentioning:
DB-25 output

– which allows you to send all 8 channels of analog audio with a single snake cable.
Mid/Side encoding – which allows you to easily perform mid/side stereo recording on channels 1 and 2, without the need for complicated routing within your DAW.
1.5 Hz – 500kHz frequency range – which is far beyond the range of human hearing on both ends of the spectrum. No other preamp I know of comes anywhere close to these impressive numbers.
Check it out:
Click to see current price – (Amazon)
Note: It seems the True Systems company is no more. As an alternative you can check out the RME Micstasy:
Up next…
Single Channel Microphone Preamps
Sure…it would be nice if we all had 4-8 high-end preamp channels, but then again…
Not everyone can AFFORD that many…and not everyone NEEDS that many.
For instance, some folks only want ONE for vocals. And if that's all you need, here's what I recommend:
1. Triton Audio FetHead
At its simplest form, a preamp is a device that boosts the signal created by your microphone.
If what you are looking for is solely boosting the sound you get our of your mic, then why buy complicated gear with dozens of features you won't be using anyway?
Instead, choose something like a FetHead, which is used by simply plugging it between your mic and your XLR cables…
And that's it!
Enjoy a super-boosted signal and never lack power ever again, whether you use a dynamic, condenser or even ribbon microphone!
Check it out:
2. Universal Audio SOLO/610
If you've experienced Universal Audio gear before…
Then you already know…
Anything sporting that signature UA stamp is freakin' amazing.
And the Universal Audio SOLO/610, featuring the same preamps used in the classic Putnam 610 console, is no exception.
Like most high-end microphone preamps, it uses a simple, no-frills design. So simple in fact, that on the back, there are only 2 connections:
And that's it.
Unlike the other preamps on this list, it features a stand alone portable design, with a carrying handle up-top.
Also check out these similar UA mic pre's as well:
Universal Audio LA-610 Mk II – (Amazon/B&H) which combines the 610 mic pre with a T4 optical compressor
Up next…
3. Grace Design m101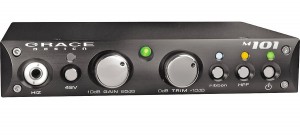 Back in 1990, Michael Grace started the Grace Design company…
Making only a small number of high-end boutique mic preamps.
And it didn't take long before they were known as one of the top names in the industry.
While most of their stuff is far outside the price range of home studios, the Grace Design m101 is one of the few preamps they make that's significantly cheaper than the rest.
An improvement upon the massively popular Model 101 pre, the M101 is built entirely with top-notch components, unmatched by its competitors.
Other than its pristine sound, the one notable feature of this preamp is its unique "ribbon mode", specifically tailored to protect your fragile ribbon mics, and allow them to perform at their best.
All in all, it's a great option.
Last on the list, we have…
4. Avalon VT-737sp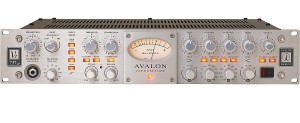 Compared to the simple, no-frills design of the last two preamps…
The Avalon VT-737sp takes the exact OPPOSITE approach.
Much more than just a mic pre…
The VT7373sp is a tube amp, with a sweepable EQ, an opto-compressor, and a ton of other features as well.
Many would consider it the most popular channel strip of the modern day.
Featuring a wealth of controls on the front panel, it can seem intimidating at first glance. So here's a breakdown of what's included:
3 inputs – mic, instrument, line
4 input mode switches – hi gain, +48V, phase, filter
4 compressor controls – threshold, compression, attack, release
vintage VU meter
a wealth of EQ controls – 4 bands, hi/low shelves, Q control
For the ultimate control on a single channel…THIS is the preamp you want.