When you're starting a home studio, and you know absolutely zero about music recording, the ONE piece of equipment that you're still likely to recognize is of course…the condenser microphone.
Which is why one of the first things you're likely to ask is…
Which condenser mic should I buy?
Then later on, after that initial problem gets solved…
You soon discover that no matter how many microphones you own, there's always the next one that you want, but don't yet have.
And so, for today's post…
I've assembled the following 3 lists covering the top condenser microphones on the market today:
The Best LARGE Diaphragm Condenser Microphones under $500
The Best SMALL Diaphragm Condenser Microphones under $500
The Best Condenser Microphones of ALL-TIME
If you're completely new to audio recording, I suggest going through them in order, because that's most likely the order in which you will purchase them.
Otherwise, if you already know what you're looking for, click on the links above to skip straight to those sections.
So here we go…
Large Diaphragm Condenser Mics under $500
When the typical person thinks of recording in a studio…
The cliche image that comes to mind is the cheesy pop star…
In a vocal booth
Headphones on
Singing through a pop filter
And on the other side of that pop filter is a beautiful large diaphragm condenser mic that costs more than your car.
And while this may sound like just a fictional movie setting…
The reality of home studios is very similar, only less glamorous.
Because while not many of us can afford to spend $5000 on a vocal mic, it's still something that we all need…
And for most new studios, it's the very first mic on their shopping list.
Which is why next I'll reveal the top 7 affordable large diaphragm condenser mics on the market, to show you just how they compare.
Here we go…
1. Audio Technica AT2035
Perhaps more so than any mic on this list…
The Audio Technica AT2035 is widely regarded as the ideal first mic for anyone starting a home studio on a shoe-string budget.
And that's because…
Among the dozens of terrible mics in this price range, the AT2035 is one of the few that actually delivers on its promises.
Notable features of this mic include:
cardioid pattern
high pass filter
-10dB pad
It also comes with the following accessories:
a custom shockmount
a cool looking bag
All in all, it's a great deal.
The only mic on this list more affordable than the AT2035 is the next mic on the list…
2. Studio Projects B1
It may not be as nearly as well-known as the AT2035…
But if cheap is what you REALLY want, there's none cheaper than the Studio Projects B1.
Long known for making great microphones at super low prices…
Studio Projects delivered once more with their new line of B Series mics, featuring the impressive B1.
You wouldn't think that a mic THIS cheap could boast almost universally positive reviews. But it does.
Notable features of this mic include:
Pressure-Gradient Transducer
Hi-pass filter
2 position pad
If you like accessories, it also comes with:
a foam wind screen
a bag

a custom shockmount
So more than just a mic, you could basically call it a complete vocal recording package.
Now that we've seen 2 of the cheapest options…
Let's check out 2 of the BEST options. First up…
3. Rode NT1-A
More than any other microphone manufacturer…
The RODE company has long held a reputation for making high-end mics at affordable prices.
And among their HUGE selection of great mics…
None is more popular, more respected, and more affordable than the Rode NT1A.
In the under $500 category, this is without a doubt, the best mic money can buy.
And since it doesn't cost much more than the previous 2 mics we've seen, it's also the best deal on this list.
Also…check out its cool accessories:
Shockmount
Pop filter
Dust cover
20′ XLR cable
Instructional DVD
Seriously…what more could really ask for?
Up next…
4. Logitech Blue Bluebird
Most people know of Blue Microphones for 1 of 2 reasons…
But what you may not know is…they make some damn fine mid-range mics as well.
And the perfect example is the Blue Bluebird.
Featuring the same signature look of their flagship mics…the Bluebird makes a wonderful centerpiece for any home studio.
And review after review confirms it…this mic SOUNDS just as awesome as it LOOKS.
Also check out the similarly priced Logitech Blue Baby Bottle – (Amazon/B&H/Thomann)
Next up…
5. Rode NT2A
ANY respectable list of large diaphragm condenser microphone just wouldn't be COMPLETE…
Without at least ONE multi-pattern mic, would it?
Well neither would any studio.
The problem is, most cost WAY more than $500. And below that, there aren't many great options.
But there is one: the RODE NT2A.
Now, if you're familiar with the NT1A, you'll know it is an absolute reference…
Arguably the most popular vocal mic in home studios around the world.
Well the NT2A is essentially the same, with the added benefit of offering 3 polar patterns in one single device. Sweet, isn't it?
It offers all 3 of the standard polar patterns:
cardioid
omnidirectional
figure-8
And it also includes:
custom shockmount
pop filter
Two positions hi-pass filter
Three positions pad
Without a doubt, the NT2A is the most versatile performer on this list. If you want a mic that does it all, and does it all WELL I highly recommend it.
While we're on the subject of mulit-pattern mics, let's check out this remake of an old classic…
6. AKG C214
As any recording engineer will tell you…
The AKG C414 is quite possibly the most versatile multi-pattern mic there ever was.
And while every studio SHOULD have one, it's far too expensive for most people.
The good news is…AKG also offers a similar yet affordable alternative: the AKG C214.
It's NOT a multi-pattern mic…
But it has the same dual-capsule as the C414, in a cardioid only design using a single diaphragm.
You won't have the switchable polar patterns, but what you WILL have is the same classic sound of one of the most beloved mics in recording history.
At last, we've reached the final mic…
7. Avantone Audio CV-12
Since tube mics are considered by many to be the Holy Grail of vocal mics…
I HAD to include at least ONE on the list.
But it was tough, since most carry RIDICULOUS price tags…sometimes as high as 5-10 grand or more for the vintage ones.
However…there's one option in particular that stands out…right at the upper limit of our price range.
That mic is…the Avantone Audio CV-12.
Notable features of this mic include:
9 Polar patterns
hi-pass filter
10 dB pad
As is standard with all tube mics, the CV-12 has its own PS-12 power supply as well.
Other accessories included with this mic are:
shockmount
padded wooden box
flight case
…That's right…a flight case! lol. In other words…this mic comes with literally everything.
Up next…
The Best Small Diaphragm Condenser Microphones under $500
Unlike large diaphragm condenser mics, which almost everyone is at least somewhat familiar with…
Small diaphragm condenser micrpohones are virtually unheard-of among musicians who have never recorded or performed live before.
However…it never takes long for newbies to realize usefulness and versatility of these mics.
On acoustic guitars, cymbals, stereo recordings…
Or anytime you want that high-end shimmer…
Small diaphragm condensers are the standard tool of choice.
The only problem is…just like with large diaphragm condensers, quality small diaphragm condensers can easily cost $1000 and up, making them unaffordable to the average home studio.
So up next, I'll show you 6 of the best options under $500.
1. Rode NT5 Matched Pair

Common wisdom states…that with small diaphragm condenser microphones…
Your best bet is usually a matched pair.
And for under $500, there's no pair that even comes close to the Rode NT5's.
If you're familiar with RODE, then you know their reputation for manufacturing high-end mics at mid-range prices.
And the NT5's are among the best examples of their potential.
It's not uncommon to find them in pro studios alongside similar mics costing several times as much.
For an affordable set of mics you will NEVER outgrow…I highly recommend you check them out.
Now if the NT5 appeals to you, but the price doesn't…
Here's something cheaper:
2. Samson C02 Matched Pair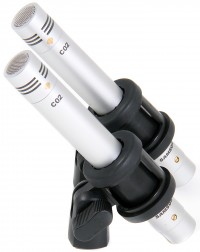 Could it really be possible to find a good buy under $150?
You wouldn't think so, right?
Well as it turns out, with Samson C02's, that's exactly what you get.
Now I'll be the first to admit, Samson is nowhere near a top name in microphone manufacturers.
Yet they somehow managed to get things damn near perfect with these mics.
It's next to impossible to find a even a single bad review of this mic. And most mics costing 10x as much can't even make that claim.
For a budget studio in need of a solid pair of cardioid small diaphragm condensers, these Samson C02's are a great option to check out.
So now that we've seen some good pairs, let's check out some singles.
Up next…
3. Shure SM81
If there's one mic on this list you could call a classic, it's the Shure SM81.
Few folks would argue, that on hi-hats, this particular Shure mic is an industry standard for both stage and studio.
But that's not all…
With a wealth of features including a 3 position high pass filter, and a 20dB pad…
It's versatile enough to accommodate a wide variety of other instruments as well.
In fact, if you could only have one small diaphragm condenser in your entire collection…
The SM81 would definitely rank among industry's top choices.
Now if the SM81 is too pricey, here's a good cheap alternative:
4. AKG Perception 170
You would never believe…
That a decent small diaphragm condenser microphone could be bought for under $100, right?
As it turns out, you'd be WRONG.
Because the AKG Perception 170, is more than just decent…it's downright impressive.
The only small diaphragm condenser featured in AKG's Perception Series…the Perception 170 is easily the star of the entire line.
Besides the astonishing number of great reviews…
It's perhaps the only mic of its kind for that price that ISN'T complete garbage.
If you're shopping for your FIRST small diaphragm condenser, you won't find a better deal than this mic.
Now so far, all the mics we've seen have featured a standard cardioid polar pattern.
So next up, we'll look at an omni mic…
5. Shure KSM141
If you've ever shopped around for a cheap omni-directional small diaphragm condenser…
Then you already know…
It's damn near impossible to find a good one that doesn't cost an arm and a leg.
But there ARE rare exceptions. The most notable one being the Shure KSM141.
With 2 interchangeable capsules, it works as either an omnidirectional OR cardioid mic, depending on your preference.
Combine that feature with a 3 position pad, and a 3 position high-pass filter, and it's obvious that the KSM141 is among the most versatile mics on the list.
And now, for the final choice…
6. Studio Projects C4 Matched Pair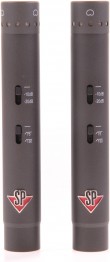 Most people would find it surprising…
But of all the mics on this list, I'd award Top OVERALL Prize to the Studio Projects C4 Matched Pair.
Here's why:
They have all the same features of the classic KSM141:
interchangeable cardioid/omni capsules
a 3 position pad
a 3 position high-pass filter
PLUS…
They're sold as a matched pair for a lower price than a single KSM141.
If you want the ultimate combination of price, sound, and versatility, you will have a hard time finding a single pair of small diaphragm condensers better than these.
I highly recommend you check them out.
Up next…
The Best Condenser Microphones of ALL-TIME
After you've assembled a decent collection of budget microphones…
And you've gotten thoroughly familiar with how they perform…
It's only natural to start wondering…What's the next upgrade?
For some reason, with condenser mics especially, we're always dreaming of that one perfect mic that makes everything sound amazing.
So now that we've covered the more "practical" options for beginner-intermediate level recording studios…
Just for fun…let's fast-forward to your future home recording studio…
To check out the very BEST of the BEST condenser microphones on the planet.
Ready? Let's begin…
1. Neumann U87 Condenser Microphone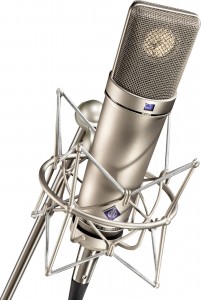 The Neumann U87 is without-a-doubt, the most famous mic in all of music history.
Look at some old photos of rock stars recording their iconic albums, and chance are, they're standing next to a U87.
How did it get so famous?
Well back in 1928, Georg Neumman came up with the original CMV3 "Neumann Bottle", which quickly became a standard in many fields.
As time passed, Neumann continuously refined his designs until the U87 made it's first appearance in the late 1960's.
By reputation alone, it has since become known by many as the company's flagship microphone.
Now if you don't agree that the U87 deserves top spot on this list…You might prefer this one instead:
2. AKG C414 Condenser Microphone
Ask any recording engineer, "If you could only have ONE mic, which would it be?"
Odds are, the AKG C414 would rank #1.
Now here's what makes it the most famous and highly-regarded of all AKG microphones:
It sounds good on virtually anything.
With 9 polar patterns, 3 high pass filter settings, and 3 pad settings, it's insanely versatile.
It costs less than 1/3 the price of the U87.
For a working-class dude, it's the only mic on the list that's even close to affordable.
Now a list of the best condenser mics ever could never be complete without including a few small diaphragm condensers, agreed?
So for the next two picks, that's what we've got.
Starting with…
3. Neumann KM184
There's a good reason that the KM184's aren't the only Neumanns on this list…
For decades now, Neumann has held its reputation as builders of the Best Microphones in the World.
And among those mics, few are as famous and widely praised as these.
In many studios, KM184's are the go-to mics for an entire assortment of instruments including acoustic guitar, piano, and cymbals.
And if the cardioid pattern of the KM184 doesn't fit the job, Neumann also offers:
the KM183 – with an omnidirectional polar pattern
the KM185 – with a hypercardioid polar pattern
Next up, we have…
4. Earthworks QTC50 Condenser Microphones
Flagship mics of the Earthworks company, the QTC50's are much more than your average omnidirectional condensers.
The 3 most impressive features of this mic are:
exceptionally quiet operation – which makes them perfect for recording softer sounds
extremely flat frequency response – which provides a realistic, uncolored recording.
3Hz-50kHz frequency range – which is perfect for digital recording at high sample rates up to and including 192kHz
This unique combination of features make the QTC50's ideal for recording large acoustic stage performances such as orchestras, choirs, operas, or grand pianos.
Now let's move on to a different type of mic, known for it's warm vintage sound, and especially loved on vocals.
I'm talking of course about tube mics. For the last 3 picks, I'll show you some of the best ones ever.
Starting with…
5. Telefunken U47 Condenser Microphone
Do a search for classic vintage mics on Google or Pinterest…
And odds are you'll find some beautiful black n white photos of the old Telefunken U47.
Since way back in the 50's, it has been used on a countless number of legendary recordings.
Ironically, in it's early days, many BIG NAMES in the industry weren't really impressed by this mic. The notable exception being Beatles producer George Martin, who absolutely loved it.
Today, that same "vintage" sound is exactly what makes this mic so highly sought-after.
No surprise, it is by far the most expensive mic on the list.
Next up, we have the updated version of a similar old classic…
6. Neumann M149 Tube
Based on the universally loved M49, the Neumann M149, combines a classic sound with the new technology of the modern day.
Interestingly enough, it's the first tube mic designed by the Neumann Company in 30+ years.
Could that be because the originals were damn near perfect? Probably.
So imagine how good this mic must be for Neumann to risk messing with perfection.
Notable features of this mic include:
9 polar patterns
a 7 setting high-pass filter
the lowest self noise of any tube mic
Check it out:
At last, we've reached my final pick…
7. Blue Microphones Bottle

As the Flagship model in the Blue Microphones line…
I'd guess that the Blue Microphones Bottle is the one most likely to raise some question marks.
Which is understandable, since it hasn't yet built the same reputation as the other mics on this list.
But here's what it has that the others DON'T:
With this mic, and the cleverly named Blue Microphones Bottle Caps, you essentially have 8 mics in one.
Each "bottle cap" is an interchangeable capsule with a unique diaphragm/polar pattern combination. And they can be easily switched out, even with the mic still on!
While it may not technically be considered a classic yet, the ingenuity of its design certainly makes it a mic worthy of mention.
So here it is, bottle and bottle caps bundled together in one package:
So anyways, that concludes this insanely long post. Hope you enjoyed it guys. 'Til next time.
Related Content: