The time comes for us all, when the make-shift workspace you started with…
Can no longer support the ever-growing demands of your studio…
And it's time to invest in a proper desk.
The problem is, finding the right desk for YOUR studio is no easy task…
Because the perfect option for one studio might work terribly for another.
That is why, in today's post, I will share with you…7 awesome home studio desks…Each one ideal for a SPECIFIC kind of setup.
First up…
1. On-Stage Stands WS7500
For a small room, with minimal gear…
A big fancy desk doesn't make much sense, does it?
In this case, the smarter option would be something simple, like the On Stage Stands WS7500.
It has the 3 basic features required for any recording desk:
And despite its tiny frame, it's still capable of supporting up to 175 lbs.
Compared to other similar desks in this category, the WS7500 tops the list in both sales and positive reviews.
Up next…
2.
OSP Home Furnishings Vision
For those who prefer something with a little more style and elegance…
The next desk I'll recommend is the OSP Home Furnishings Vision.
It has all the same features of the WS7500, with 2 notable additions:
rollers on the bottom for easy moving
a large bottom shelf for computer towers/external hard drives
For those wondering where glass desks are suitable for recording, here's your answer:
This desk uses special material known as "tempered glass" which is 4-5x stronger than normal, making it ideal for studio use.
Personally, this desk is my favorite option on the list by far.
Click to see current price – (Amazon)
Up next…
3. Flash Furniture Desk
If you use studio monitors stands…
You've probably noticed that the upper shelf area of most studio desks are not only useless…
They're a problem.
All they do is add unnecessary surface area…
Which creates more reflections, and degrades the accuracy of your monitoring.
The solution to this problem is to choose a desk WITHOUT the upper shelf: such as the Flash Furniture Desk.
If you don't have much gear, and you want to keep those sound reflections down the absolute minimum, this desk is the perfect option.
Click to see current price – (Amazon)
Up next…
4. Walker Edison 3-Piece Studio Desk
Traditional recording advice says…
Studio desks do NOT go in the corner of a room, right?
Yet in many home studios, it's the only option.
The problem is, since recording studio desk makers don't usually make corner desks…they're hard to find.
But here's one you'll absolutely love: the Walker Edison 3 Piece Contemporary Desk.
With its low price tag, stellar reviews, and compact design that fits in even the tightest corner spaces…
It's the perfect corner desk for small bedroom studios.
Click to see current price – (Amazon)
Up next…
5. Glorious Sound Studio Desk
As home studios expand over time…
Rack spaces become an ever-more important commodity.
And while some people like stand-alone rack units…
Others prefer those rack spaces be built into their desk, as is the case with the Glorious Sound Desk pro.
The Glorious Sound Desk pro provides a total of 9 rack spaces right in front of you…
Over a main surface area large enough to support either a full keyboard or control surface.
If you've got a lot of gear, and you need a place to put it…this desk could be exactly what you're looking for.
Up next…
6. Studio RTA Producer Station
If the Omnirax Presto wasn't big enough for you…
This next desk almost certainly will be: the Studio RTA Producer Station.
It has just about every feature you could want, including:
A main surface area is large enough for a full keyboard.
Two sliding trays for keyboards
Cable organizers in the back
Rollers on the base
Two 8-space CD holders
8 rackspaces up top
20 rackspaces on EACH side down below
Altogether, that's a total of 48 rackspaces! And while you probably won't use that many, the great thing about this desk is…
The bottom rack bays are perfect for computer towers as well.
While most desks of this caliber sell for $1500+, you be surprised to learn that the RTA Producer Station is nowhere near as expensive…
Up next…
7. Acme Furniture Eleazar Studio Desk
If you're looking for a big, functional AND aesthetically pleasing desk..
The Acme Furniture Eleazar Studio Desk is likely what you are looking for. Personally I think it's the best looking pick of this list.
It has a very minimalistic design with 2 monitor stands and one computer stand in the middle. One keyboard tray and 2x4U for a total of 8 rack spaces under the stands.
Its oak finish gives it a very sleek look as well as a sturdy build.
All in all the Acme Furniture Eleazar Studio Desk is a minimalistic yet complete recording studio desk, with the added benefit of looking good.
One last thing, this desk is available in 2 versions: with 2 or 3 stands, which are both the same dimensions.
Click here to compare prices:
Note: Thomann sells this desk under their brand Millenium
Up next…
Custom Desk Makers You Should Know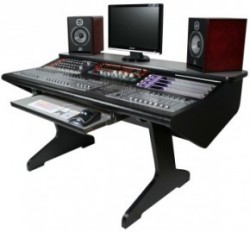 If you've made it this far, and NONE of the desks I covered meet your needs…
Here are 3 custom desk makers I recommend you check out:
Contact one of these guys and they can make you virtually anything you want.
---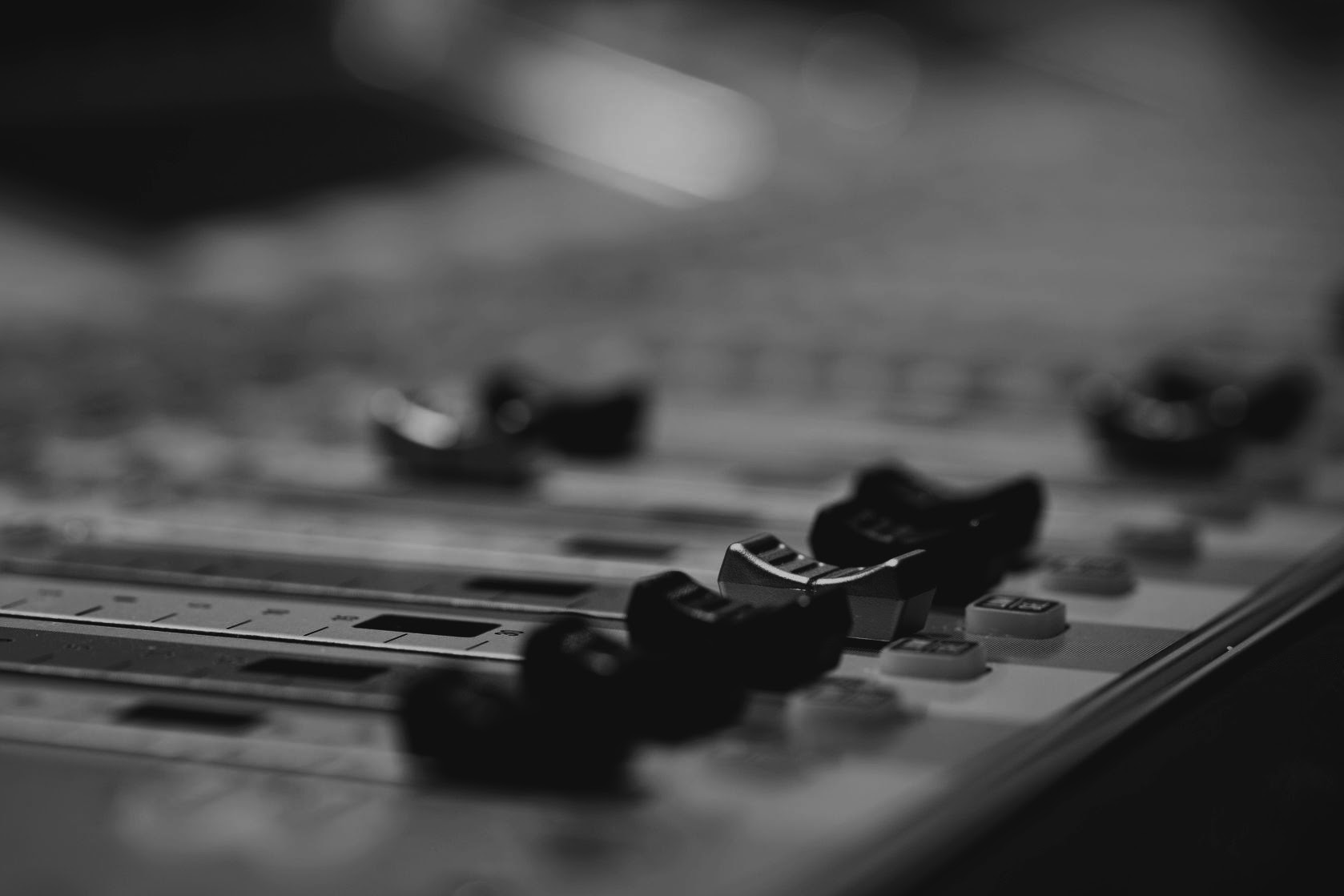 Home Recording Secrets:
The Complete 5-Chapter Blueprint to Building the Studio of Your Dreams – Faster, Cheaper, and Easier Than You Think