With today's new trend, towards stereo microphones…
The once complicated process of stereo recording has become simpler than ever.
And while most people wouldn't consider them among the essential mics for studio recording…
For mobile recording, they're definitely a must-have tool.
And so, in today's post, I review the 7 Best Stereo Microphones on the market, to see just how they compare.
So here we go…
1. Audio-Technica AT2022
While many brands have been slow in response to the recent demand for stereo mics…
Audio-Technica is the one company that assembled an impressive line rather quickly.
As the first of 3 Audio-Technica mics on this list, the AT2022 looks appealing at first glance…
Mostly because it sits right in that low-mid price range where most of us begin our shopping.
So here's a run-down of what it offers:
battery-powered electret condenser design
two cardioid capsules
X/Y stereo configuration at either 90° or 120°
capsules that fold flat when stored to avoid damage
3 pin XLR cable output to 1/8″ stereo jack
Two important cautions with this mic are:
48V phantom power should NOT be used, and can actually cause damage.
Because it outputs an

unbalanced

signal, there is no easy way to split the stereo signal into 2 XLR's.
For these reasons, I would NOT recommend this mic for studio use. For field recording though, it's a great option, and has received tons of positive reviews for that purpose.
Click to compare prices – (Amazon)
Up next…here's the mic I'd recommend as a studio alternative to the AT2022…
2. Rode NT4 Stereo Microphone
Chances are, you've already heard plenty about Rode's reputation for making high-end mics at mid-range prices.
Well the Rode NT4 is as good as anything in their line.
Compared to the AT2022, it shares the following features:
frequency-matched cardioid capsules
X/Y stereo configuration at 90°
Battery powered operation for field recording
1/8″ stereo output for field recording
The BIG differences are:
It also accepts 48V phantom power for studio recording.
It uses a

5 pin XLR output

, and an included

dual 3 pin XLR Y-cable

.
This means, unlike AT2022, it provides a balanced stereo signal that can be easily used in the studio with any standard mic pre.
With its great combination of versatility, affordability, and Rode quality, the NT4 is easily my #1 overall pick for best stereo condenser mic on this list.
Up next…
3. Audio Technica Pro24
If the primary feature you desire is rock-bottom pricing…
Then you'll definitely like this next mic:
The Audio Technica Pro24, which features two phantom-powered condenser mics in a standard X/Y stereo configuration.
At first glance, you'll notice 2 unusual things about this mic:
the ON/OFF switch
the permanently-attached 6 inch cable with 1/8″ jack
So clearly, this mic is intended for camera-mounting, and NOT the studio.
You may also notice, the technical stats on the Pro24 aren't super-impressive. Yet multiple reviews confirm that in this price range, its sound easily out-performs any of its competitors.
So overall, I'd still consider it a steal.
Up next, here's the best cheap option I'd recommend for the studio:
4. Logitech Blue Yeti Stereo Microphone

The one and only USB mic on the list…
The Logitech Blue Yeti offers a super-easy solution to stereo recording…
Without all the gear and hassle that normally comes with it.
Featuring a one-of-a-kind tri-capsule array, this mic offers 4 different settings:
STEREO
cardioid
omni
figure-8
…as well as the standard features common to USB mics, including:
gain control
zero latency headphone output
onboard preamp/converter
For simple bedroom studios, the Blue Microphones Yeti is the ideal way to record acoustic guitar in stereo…
By the simplest means possible.
Also check out the Yeti X, which adds a 24 bits bit-depth bitrate and a LED indicator to monitor input volumes
Up next…
5. Avantone CK-40 Stereo Microphone
If you love features, this next mic has them ALL:
The Avantone Audio CK-40 is the ONLY stereo mic featuring two multi-polar pattern capsules, each with the 3 basic settings:
This combination allows you to perform ANY of the most common stereo techniques, including:
For an OPTIMAL stereo image, the mics are stacked vertically, allowing them to effectively occupy the same point-in-space.
And to fine-tune the width of your X/Y recordings, the top capsule rotates up to 180 degrees.
With all these features, you could argue that (in a way), the CK-40 is the single-most-versatile-microphone ever made.
Up next…
6. Audio-Technica AT4050ST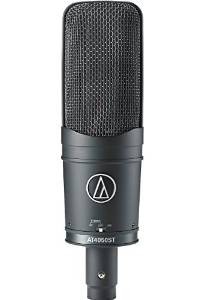 As a member of Audio-Technica's legendary 40 Series…
And dual-version of the immensely popular AT4050…
The Audio Technica AT4050ST is the definition of what you might call a "high-end stereo mic".
With a unique internal design that combines the use of both cardioid and figure-8 capsules…
This mic allows for simple stereo recording on 3 settings:
Mid/Side
X/Y at 90º spread
X/Y at 127º spread
Though not rich in fancy features, the main selling point of this mic is its ability to record pristine sound quality, through the use of premium parts and manufacturing.
And if it's within your budget, you really can't go wrong with the AT4050ST.
Up next…
7. Royer SF-12/Royer SF-24
Saving the best (and most expensive) for last…
The Royer SF-12 and SF-24 are the undisputed King and Queen of stereo microphones.
Surprisingly, they're actually one of only a few stereo-ribbon mics available…
Despite the fact the figure-8 pattern of ribbon mics is a primary tool for stereo recording.
Both models are configured with two mics vertically stacked at a 90° angle…making them perfect for either Blumlein or Mid/Side recording.
The KEY difference between the two is:
the

SF-24

features active circuitry, which provides

14dB more gain

compared to the passive design of the

SF-12

, which comes at a lower price
And while either one is WAY too expensive for the average home studio…
What virtually any pro studio will tell you is…these mics are absolutely incredible, and well-worth the cost to those who can afford them.
Related Content: