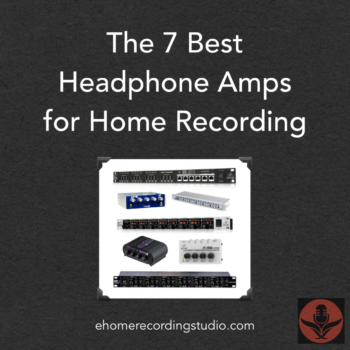 When the time finally comes where you're ready to record with others…
It's a BIG step…
First, because it's scary inviting outsiders to your studio for the first time…
Second, because it means you'll need a few upgrades.
And one most people start with is a headphone amp.
If you've done some research, then you already know…
The options can vary greatly, in BOTH functionality and price.
So to help you make sense of it all, in today's post I review and compare the 7 best headphone amps currently on the market.
So here we go…
The 3 Categories of Headphone Amps
ALL studio headphone amps fit in 1 of 3 categories:
Desktop Amps – (cheapest)
Rackmounted Amps – (mid-range)
Headphone Distribution Systems – (high-end)
And since most people start off with a desktop model, let's begin with those…
Desktop Amps
As the simplest version of a studio headphone amp…
Desktop amps perform the singular task of splitting one headphone out into 4…
So several musicians can monitor your mix at once.
And since they're small, cheap, and simple-to-use, most project studios find they're the ideal option.
The top models I recommend in this category are:
ART HeadAmp 4
Behringer MicroAMP HA400
Presonus HP4
Here's how they compare:
1. Behringer MicroAMP HA400
For the absolute cheapest, reliable option on the market…
Nothing quite compares to the Behringer MicroAMP HA400.
The problem with most models in this price range is…
They aren't powered, so you lose lots of level from splitting the signal 4-ways.
The HA400 however, uses active circuitry, meaning it has a dedicated power supply to boost each channel back up to its original level.
And while you might be skeptical of options in this price range, hundreds of positive reviews can confirm that the HA400 lives up to its promises.
Up next…
2. ART HeadAmp 4
The one common complaint you hear about the HA400 is that it does add a noticeable degree of noise to the signal…
Which is NOT a big deal, since hi-fi sound is a low-priority with headphone monitoring anyway.
However…
If it does bother you, the alternative is to spend a few dollars more on a slightly better model such as the ART HeadAmp 4…
Which performs the same basic function, but with a cleaner signal.
One cool feature of the HeadAmp4 is: it includes both 1/4″ AND 1/8″ headphone jacks, to fit both consumer and pro headphones without needing an adapter.
Up next…
3. Presonus HP4

While it's more expensive than the last two options…
Few would argue that the Presonus HP4 is easily the best of the 3.
Here's why:
Rather than using a one unbalanced stereo input like the previous 2 models, the HP4 uses two balanced mono inputs…
Which is easier, since virtually all audio interfaces use two balanced mono OUTPUTS.
So with this model, you WON'T need a weird Y-adapter cable like this one.
The other nice feature is the balanced stereo outputs, which you can connect to your studio monitors, allowing the HP4 to double as a simple monitor management system as well.
Overall, it's the best option in this category.
Up next…
Rackmounted Amps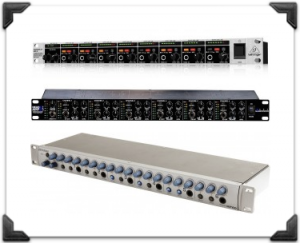 All home studios eventually reach a point in their development…
When the rackmounted gear starts taking over…
And the desktop gear gets sold on Ebay.
If you're at this stage now, then a rackmounted headphone amp is probably what you'll prefer.
Compared to desktop amps, they typically offer more features, and more channels, but they're also more expensive ($150-$300).
The top models I recommend in this category are:
Behringer Powerplay Pro-8 HA8000
ART HeadAmp6 Pro
Presonus HP60
Here's how they compare:
1. Behringer Powerplay Pro-8 HA8000
Despite being the cheapest of the 3 options…
The Behringer Powerplay Pro-8 HA8000 has the most channels (8), and a few other nice features as well…
First, it has headphone outputs on BOTH the front and back panels, which is great because you can keep the regularly-used channels hidden in the back…
Yet easily add temporary channels in the front as needed.
And unlike desktop amps, the HA8000 has TWO main stereo inputs…with the ability to toggle between them on each channel.
Up next…
2. ART HeadAmp6 Pro

While the HA8000 is an excellent headphone amp…it's not without its problems.
The nice thing is ART HeadAmp6 Pro is…
For just a small jump in price, it does a great job at solving most of those problems.
Here's what I mean:
Headphone amps often feature aux inputs on each channel so musicians can hear more of themselves while tracking.
The problem is, the HA8000 doesn't offer a way to control the mix between the aux input, and the stereo mix on each channel…effectively making the feature useless.
The HeadAmp6 Pro however…DOES have this key feature, which is the reason it stands out from every other model we've seen so far.
And if you record more than one musician at a time, this feature is a MUST-HAVE.
Up next…
3. Presonus HP60

While it's the most expensive of the 3 options…
The Presonus HP60 easily justifies its price with all its amazing features.
It offers the same important "more me" function as the HeadAmp6 Pro, with a few extras…
First, it has DUAL stereo inputs with a mix knob on each channel, so you can set up a click track on the second input…
And control the volume of that click individually on each channel. None of the other amps we've seen so far can do this.
Second, the comment you hear over and over about the HP60 is that it's LOUD. And a common problem with many cheaper headphone amps is a lack of volume due to varying headphone impedances.
Luckily the HP60 has lots of extra power (150 mW per channel) to provide you with as much volume as you need.
And third, the HP60 features talkback capabilities as well, which is nice if you don't have one set up yet.
The only flaw I see with the HP60 is that the power switch is on the back. Which is annoying, but a small inconvenience in comparison to its wealth of other awesome features.
Up next…
Headphone Distribution Systems
The one MAJOR flaw with all rackmounted headphone amps is:
They put control in the hands of the engineer, rather than in the hands of the musicians, where it belongs.
Because when the engineer controls their volumes, he has no clue:
what the musicians are hearing, or…
what they want to hear.
The result is an endless back-n-forth of:
Is that loud enough?
No? How 'bout now?
Too loud? How 'bout now?
What's worse…when musicians can't control their own volumes the right way, they start doing it in the wrong ways without telling you…like adjusting the volume knob on their instrument…
An that creates an entirely new set of problems for the engineer.
Ideally, each musician should have his own personal mixer to control what they hear in their headphones, without any outside help.
That way, the musicians get exactly what they need to deliver their best performance, and the engineer can focus on other things.
The only way that's possible, is with a headphone distribution system, such as this one:
The Behringer Powerplay P16-I
For a maximum level of control…
The Behringer Powerplay P16-I has virtually everything you could want in a headphone amp, and more.
The hub of the Powerplay Distribution System is the P16-I, which offers 16 input channels using either:
16 balanced TRS analog inputs, or…
2 (8 channel) digital ADAT inputs
Those 16 channels are sent via ethernet cable to as many as six P16-M personal mixers, which can be purchased separately as needed.
The P16-M offers musicians the ability to craft their own custom headphone mix, without affecting what's heard by anyone else.
If you need more than 6 mixers, the Behringer P16-D expander (purchased separately) allows you to add up to 8 more.
And because the mixers are fed via ethernet, you can extend them for hundreds of feet if necessary without any noticeable degradation of the signal.
You might say, that the Behringer Powerplay Distribution System is the ultimate solution to headphone monitoring for home recording.
Here are the prices of each item:
Some decent alternatives to the Powerplay P16-I include:
the Hear Technologies Hearback
the Aviom AN-16/i v.2
But I don't really recommend them, because they cost way more, with few added benefits.
Now to conclude this list…
An Honorable Mention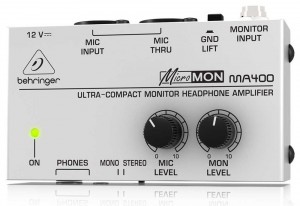 If you want personal mixers for your setup, but you can't afford a P16-I…
One cheaper alternative is the Behringer MicroMON MA400.
The reason it's so cheap is that it offers "more-me" control using an entirely different method.
Rather than receiving multiple outs from your audio interface, the MA400 mixes a single stereo channel with a direct/thru input from the live microphone.
This also allows you to pair it with ANY standard headphone amp from this list.
However…
The biggest disadvantage of this method is…the "more-me" channel will be absent of any effects from the mix.
So it's not ideal, but it's better than nothing.