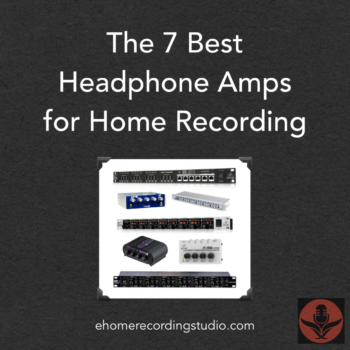 If you're shopping for headphone amps for your home studio…
But you aren't quite sure what you're looking for, or how to tell the difference between one and the next…you've come to the right place.
Because in this ultimate guide, we'll look at the 7 best headphone amps currently on the market to see just how they compare.
So here's what we're about to cover:
First up…
The Simplest 4-Channel Desktop Amp for Home Studios
Put simply, a headphone amp takes a single headphone out and splits it into 4.
That way, several musicians can monitor your mix at once.
Among desktop versions, there no model cheaper or easier-to-use than the Behringer MicroAMP HA400.
While most models in this price range are passive, and therefore lose level from signal splitting…
The MicroAMP uses active circuitry, meaning it has a dedicated power supply to boost each channel back to its original level.
While it's not nearly as sophisticated as the other models we're about to cover, hundreds of positive online reviews can confirm that it does live up to its promises.
Up next…
A Slightly Better Model, for a Slightly Higher Price
The common complaint you hear about cheaper headphone amps is that they add a noticeable degree of noise to the signal…
Which is NOT a huge deal, since optimal sound quality isn't top priority with headphone monitoring anyway.
However….if it does bother you, just spend a few dollars more on a slightly better model such as the ART HeadAmp 4, which performs all the essential functions, but with a cleaner signal.
One cool feature of the HeadAmp4 is that it includes both 1/4″ AND 1/8″ jacks for both consumer and pro headphones.
Here's the link:
Up next…
The Best 4 Channel Desktop Headphone Amp of Today

Of the 3 most popular desktop headphone amps, the Presonus HP4 is definitely the best of the bunch.
And here's why:
Rather than using one unbalanced stereo IN like the other models, the HP4 uses two balanced mono INS.
This makes connecting easier, since virtually all audio interfaces use two balanced mono OUTS. So you WON'T need one of those weird Y-adapter cables.
Two balanced inputs also means you get a much cleaner signal, and can extend cables as far as you like without adding noise.
The other nice feature is the balanced stereo OUTS, which you can connect to your studio monitors, allowing the HP4 to double as a simple monitor management system. You could also daisy chain it to another device if you need even more headphone outs.
Overall, it's the best option in this category. Check it out:
Up next…
Your Basic 8-Channel Rackmounted Headphone Amp
Most home studios eventually reach a point where the desktop gear gets sold on Ebay, and the rackmounted gear starts taking over.
If your studio is at this stage now, a rackmounted headphone amp such as the Behringer Powerplay Pro-8 HA8000 is probably what you'd prefer.
Compared to the desktop amps we previously covered, rackmounted amps generally have more channels and features, but also cost more.
The HA8000 has a total of 8 channels, with headphone OUTS on both the front and back panels. This feature is great because you can keep the regularly-used channels hidden in the back, while easily adding temporary channels in the front when needed.
It also has TWO main stereo inputs, with the ability to toggle between them on each channel.
Overall, it's an enormous upgrade from any desktop headphone amp on the market. Check it out:
Up next…
A Rackmounted Amp with Mix Control on Each Channel

When recording musicians, they typically want to hear mostly themselves, and just enough of everything else to follow along.
The problem is, when you record multiple musicians at once, they all want the same thing, at the same time. Which is clearly impossible, if they're all listening to the same mix.
However, more advanced headphone amps such as the HeadAmp6 Pro offer individual aux inputs so you can create a separate balance of live/backing tracks for each person.
If you record more than one musician at a time, this feature is a must-have.
Here's the link:
Up next…
The Ideal Headphone Amp for Most Home Studios

If there was one headphone amp I'd recommend for the majority of home studios, it's the HP60 by Presonus.
While it's more expensive than the others we've seen so far, in my opinion, it has the ideal ratio of price to features.
With 8 channels, front/back inputs, and the same "more me" function as the HeadAmp6…it adds a number of additional features as well:
First, it has DUAL stereo inputs with a mix knob on each channel, so you can set up a click track on the second input. Then control the volume of that click individually on each channel.
None of the other amps we've seen so far can do this.
Second, it's LOUD. With 150 mW per channel, it has as much volume as you need. A common problem with many cheaper headphone amps is a lack of volume due to varying headphone impedances.
Third, it has talkback capabilities, which allows the engineer to communicate easily with the talent.
Overall, it easily has the best price to value on this list. Check it out:
Up next…
The Ultimate Solution in Studio Headphone Amps
A major flaw with headphone amps in general is:
They put the volume control in the hands of the engineer, rather than the musician.
And the engineer has no clue what the musician hears in his headphones, or what he wants to hear. So the result is an endless back-n-forth of:
Is that loud enough?
No? How 'bout now?
Too loud? How 'bout now?
Even worse, this creates a tendency for musicians to start controlling their own volume in ways that you don't want them to. Such as for example, adjusting adjusting the volume knob on their electric guitar. And that creates an entirely new set of problems for the engineer.
So the only solution here, is to give, each musician a personal mixer to craft his own custom headphone mix, without affecting what's heard by anyone else.
And this can be done, with a "headphone distribution system", such as the Behringer Powerplay P16-I.
The hub of this system has 16 inputs from either TRS or digital ADAT.
These channels are sent via ethernet cable to up to six personal mixers, which can be purchased separately as needed. Ethernet cables can extend for hundreds of feet if necessary, without degrading of the signal.
If you need more than 6 mixers, you can purchase the expander which adds up to 8 more.
Here are the links to each item:
Other possible headphone distribution alternatives include:
the Hear Technologies Hearback
the Aviom AN-16/i v.2
But both of these cost way more, with few added benefits.
Up next…
A Cheaper Solution to Personal Headphone Mixers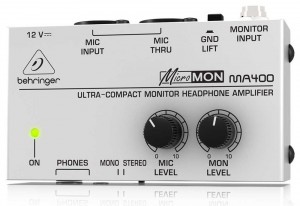 If you love the idea of having personal mixers for each musician, but you're not quite ready to invest in a full headphone distribution system…
A cheaper way to try it out would be to use the Behringer MicroMON MA400.
The reason it's so cheap is that it offers "more-me" control using an entirely different method.
Rather than receiving multiple outs from your audio interface, the MA400 mixes a single stereo channel with a direct/thru input from the live microphone. This also allows you to pair it with ANY standard headphone amp from this list.
However, the biggest disadvantage here is: the live channel will be absent of any effects from the mix.
So it's not quite as good as a real headphone distribution system, but the compromises may be worth it for the lower price. Give it a try:
---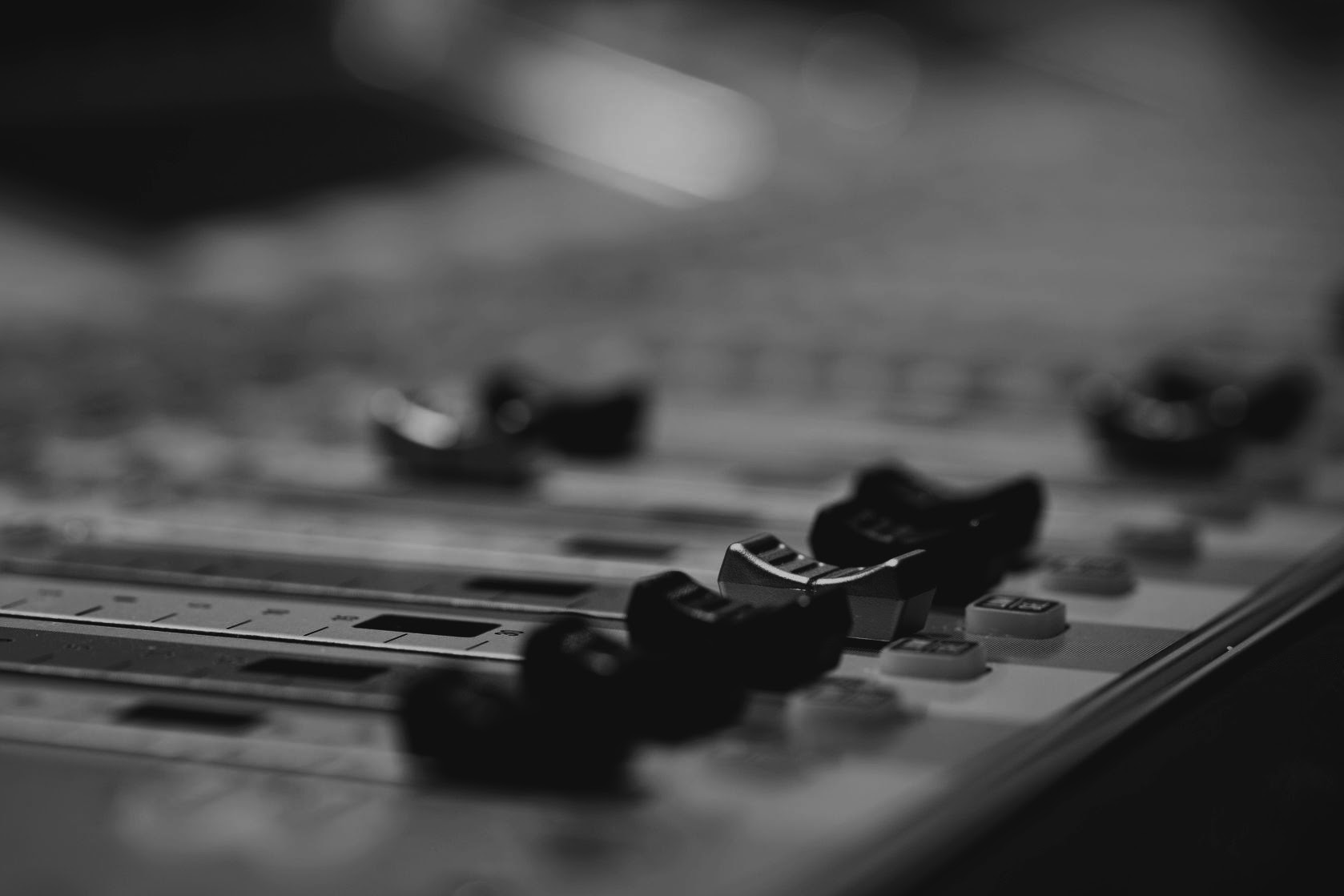 Home Recording Secrets:
The Complete 5-Chapter Blueprint to Building the Studio of Your Dreams – Faster, Cheaper, and Easier Than You Think