We all want a better low-end in our mixes, right?
And while most folks look to their studio monitors and/or acoustic treatment to solve this problem…
The FIRST step is of course…
Recording it RIGHT, at the SOURCE.
To do that, not just any mic will do…
A good bass/kick drum mic is a MUST.
That in today's post, I reveal:
6 of the best mics EVER, for recording bass guitar and kick drums.
And since every mic on this list only costs around 200 bucks, there's no reason you can't have whichever one you like.
So here we go…
1. AKG D112
If there's one industry standard for kick drum mics…
It's the AKG D112.
That's why it has earned the top spot on this list.
It has all the standard features you'd expect from any bass mic:
large diaphragm dynamic
cardioid polar pattern
frequency response tailored for recording kick drums, bass cabs, and other bass instruments
But one of its more unique features of this AKG mic is the built-in windscreen inside the capsule to protect against popping.
More than any ONE feature though, its long-standing reputation is by far the strongest selling point of this mic.
UPDATE: There is now a newly updated version of this kick drum mic, the AKG D112 mkII, which features a new mic clip that is attached to the body.
Next up on the list is…
2. Shure Beta52A Kick Drum Microphone
In a close second place…the Shure Beta52A is the OTHER well-known classic in the world of bass/kick drum mics.
Its rugged and durable design makes it especially popular for live stage performances.
Yet it's used in the studio just as often.
The most unique feature of this Shure mic is its seldom-seen supercardioid polar pattern.
Compared to the typical cardioid pattern of most bass mics, it offers 3 potential advantages:
Improved rejection of off-axis sounds

– which offers increased sound isolation often needed for live-recordings.
Increased proximity effect – which could provide a pleasant boost to the low end of bass instruments.
More tonal control with mic positioning – since the frequency response of supercardioid mics are more sensitive to small changes in position.
If you're looking for a sure thing that sounds great both on-stage, and in the studio, I highly recommend this kick drum mic.
Next on the list, we have…
3. Audix D6 Kick Drum Microphone
Despite being a well-known classic…
The Audix D6, more than any kick drum mic on this list, is met with a TON of mixed reviews.
Some folks love it…and some DON'T.
It's not because the mic is BAD. It's because it sounds very DISTINCTIVE.
When you read the reviews on this mic, the most highly debated topic is the fact that some find it too "clicky", while others enjoy the added attack.
The unique sound comes from a combination of 3 notable features:
The legendary VLM Technology to build its diaphragm. The ultra light diaphragm responds quicker to the attack of the beater, resulting in a punchier sound with a sharper attack.

A specific series of frequency boosts

. With a 14dB of boost at 60 Hz, 15dB between 4 and 5K, and 17db between 10 and 12k, this combination supposedly makes it ideal for 22″ kick drums.

Its claim of "good sound from almost any position"

. Normally a feature more common to omni mics, this claim (if true) could be the perfect shortcut for beginners to achieve a good sound with very little effort.
If you want a kick drum mic that truly stands out from the rest, this is the one I recommend.
Now for one of the newer kick drum mics on the list…
4. Sennheiser e602 II Kick Drum Microphone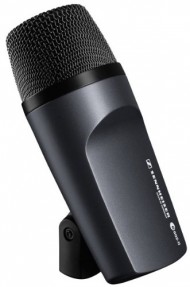 Part of the Sennheiser Evolution 600 Series…
The Sennheiser e602 II, offers a huge step up in aesthetics compared to the previous 3 mics on this list.
Good looks aside…this mic is no slouch in the sound department either.
The most interesting feature of this mic is its "frequency independent directivity", which simply means…
It's able to provide a relatively consistent frequency response regardless of positioning.
Benefits of this feature include:
Good isolation from other sound sources
High gain before feedback during live performances
The bottom line is…the Sennheiser e602 II is a simple, no-frills mic that sounds as good as it looks.
Up next, is the updated version of the e602 II…
5. Sennheiser e902 Kick Drum Microphone
You wouldn't think it was possible…
Yet somehow…
Sennheiser managed to improve upon the already extraordinary e600 Series…
With the updated Evolution 900 series.
Winner of the TEC Awards in 2005 for "Best Drum Microphones", the e900 series offers a collection of awesome drum mics, featuring the highly praised Sennheiser e902 bass mic.
I'm guessing you'll agree, this new version looks even cooler than the last.
After searching through many forums, I found very little information on the exact differences between this mic and the e602 II. But the overwhelming consensus is…this mic rocks.
Many users prefer its sound over ALL the classics previously mentioned.
No surprise, it's more expensive than the e602…but only slightly.
For the final kick drum mic, I decided on something a little unusual…
6. Shure Beta 91A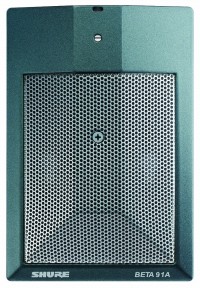 So far, every mic on this list has been either a classic, or a promising newcomer.
But the Shure Beta 91A is neither.
So why does it deserve a spot on this list? Well…
While all the kick drum mics we've covered so far have offered the same basic design…this one is RADICALLY different!
The most unusual features of this mic are:
Half cardioid polar patterns (in hemisphere above mounting surface)
condenser boundary mic w/ integrated preamp
two position switch for either flat, or bass-tailored response
Despite its weird look, and the fact that its relatively unknown by the masses…
You'd be surprised to learn that its actually VERY popular and highly respected by many engineers and drummers "in-the-know".
Now if you're wondering…"How the hell do you mount this thing?" …
If you're looking for something a little different than your typical bass mic, I highly recommend you check this one out.
Related Content: