So…are studio headphones really necessary, or will any old headphones do?
It's an extremely common question folks have when first getting started with home recording.
So here's the short answer:
Recording studios use 2 very specific types of headphones for 2 very specific purposes.
They are:
Closed Back Headphones – which are used for recording tracks

Open Back Headphones

– which are used for

mixing
And if you're currently searching for a good pair of either one, in this post I'll show you the absolute best options in the following two sections:
The 6 Best Closed Back Headphones for Recording Tracks
The 7 Best Open Back Headphones for Mixing
The 6 Best CLOSED Back Studio Headphones
When recording tracks in the studio, the primary concern with a good pair of closed back headphones is that they offer maximum sound isolation…
So the musicians can monitor the headphones mix as they play…
Without the sound bleeding into the live mic, and ruining the take.
Among the best models currently on the market…
These are the top 6 that I recommend:
1. Sennheiser HD280 Pro
Chances are you've heard of it before…
Because the Sennheiser HD280 Pro is commonly known in recording circles as the industry standard in closed back headphones.
Now I'll be the first to admit…
they aren't particularly glamourous, and…
there are no special features to brag about
But what they CAN brag about is the fact they're easily the most popular studio headphones in the World.
And while they may not have the ABSOLUTE GREATEST sound you've ever heard…they serve their purpose well.
For both beginner and advanced studios alike, I highly recommend them.
For those who don't like the HD280, chances are, its because they're fiercely loyal to these instead…
2. Sony MDR-7506
/The closest, and perhaps only real competitor to the HD280 is…
The legendary Sony MDR-7506.
Compared to the HD280:
They're just as affordable
They're just as durable
They provide just as much isolation
And some folks give them a slight edge OVERALL…myself being one of them.
Having used them both, I find the MDR-7506 marginally better in both comfort and sound quality. And after sifting through the reviews, I found others who agreed as well.
But seeing as both are SO popular, and some musicians are picky about their headphones…
It might be a good idea to keep a few of each on hand, so everyone's happy.
Now for 90% of folks reading this, I recommend stopping here and choosing one of the first two options on the list.
For those who still want more, let's continue…
3. Extreme Isolation EX-29
The Extreme Isolation EX-29 is a unique pair of headphones designed with ONE SPECIFIC GOAL in mind:
Maximum Sound Isolation.
Designed BY a drummer, and intended FOR drummers…
These headphones rival the isolation of many industrial use hearing protectors!
Strangely enough, when you read the specs, they're only rated at 29dB of noise attenuation. It's an impressive number, yes…
But there are plenty of other headphones boasting numbers just as high, if not better.
Yet from both personal experience and user reviews, it's obvious the EX29 isolates sound better than any of them.
The explanation?
Well according to product descriptions, most headphones measure attenuation at just ONE frequency. But the EX-29 measures the AVERAGE attenuation over a WIDE frequency range.
And as we all know, low frequencies are MUCH harder to block than high ones.
While I agree they're ugly as hell, if maximum sound isolation is your #1 priority…
I highly recommend you check them out.
Up next we have my personal favorite…
4. Beyerdynamic DT770 Pro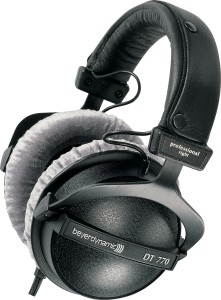 So far on the list, all the headphones we've seen cost right around $100.
But the Beyerdynamic DT770 Pro, which costs over twice that…
Offers some significant upgrades in overall quality.
In terms of comfort, sound quality, and style…
These headphones easily blow the previous 3 out of the water.
In terms of sound isolation, and durability…they're about the same.
So the question is…are they worth the added cost?
Well my opinion, the DT770 Pro's offer the perfect compromise between luxury features, and affordable price. That is why they are my #1 favorite headphones on this list.
A similar model I also recommend is the Beyerdynamic DT770M.
Intended specifically for drummers, they offer 35dB of noise attenuation, which is the highest figure of any studio headphones I found. Check them out.
Now for the last two picks, I've saved the REALLY high-end stuff.
Starting with…
5. Focal Listen Professional
With cheaper closed-back headphones…
It always seems like optimal sound quality takes a backseat to other more important features, right?
But for those who can afford it…why not have BOTH?
Well with the Focal Listen Professionals, that's exactly what you get:
Everything you'd expect from a pair of closed back headphones…
With sound quality rivaling many high-end open back models
One clever feature of these headphones is the memory foam padding, which comfortably molds your head, sealing up any open gaps.
That way…the inside noises stay IN, and the outside noises stay OUT.
Check them out. I suspect you'll be impressed.
Now for the final item, I've saved the most "high-end" option of them all…
6. Shure SRH 1540
Closely resembling the standard open back design…
The Shure SRH-1540 is perhaps the closest you could ever come to reference quality sound in a pair of closed back headphones.
From a design standpoint…they're easily the most beautiful pair on the list by far.
Somehow, you can tell just by looking at them how ridiculously comfortable they are.
Now I COULD tell you about its wealth of cool features and accessories. But as I'm sure you'll agree, the only REAL QUESTION worth answering is…
"Do they REALLY sound as awesome as they look?"
According to its reviews, all signs point to YES. Many are written not by studio musicians, but by audiophile geeks. And when it comes to high-end sound, those guys REALLY know their stuff.
Would I recommend it as a first choice for a recording studio? Of course not.
But if someone specifically asked me for the BEST of the BEST…
I would no-doubt point them in the direction of the Shure SRH-1540.
Now that we've covered all the best closed back options, let's move on to the next section of this post where I reveal…
The 7 Best OPEN Back Studio Headphones
The unfortunate side-effect of closed back headphones is:
as isolation goes up…
sound quality often goes down.
Which is fine for tracking, since isolation is clearly the higher priority.
However, there are TWO situations when sound quality takes priority over isolation:
when you are recording an instrument that doesn't require a microphone, such as an electronic drum kit or keyboard.
when you are

mixing

.
And even though ideally, mixing is best done on studio monitors…
In today's world of mobile recording and budget home studios, headphone mixing has become an acceptable practice.
As long as…you remember to use open back headphones, which essentially make the opposite compromise of choosing optimal sound quality at the expense of isolation.
Among the best models on the market, these are the top 7 I recommend:
1. Beyerdynamic DT990 Pro
Since sound quality is the top priority with open back studio headphones…
It makes sense that the #1 pick on this list be the ones that provide the best sound, for the lowest price.
In my opinion, that crown belongs to the Beyerdynamic DT990 Pro.
For a mid-range model…they have everything you could ask for…and more.
Notable features include:
an exceptionally wide frequency range (5Hz-35kHz)
a strong bass presence
a very comfortable fit
Having used them before, I can personally vouch for their comfort.
Nothing's worse than uncomfortable headphones…but these ones are about as comfortable as they get.
Now here's another popular model for around the same price…
2. AKG K 701 Studio Headphones
Back in the day…the old AKG K1000's were not only the flagship headphones of the AKG line…
They were commonly known in audiophile circles as the best studio headphones in the World.
Today…the newer AKG K701's inherit many of the same remarkable qualities…
Along with some updated technology as well.
For instance:
They're the first to feature AKG's flat-wire coil technology, which compared to the K1000's…
Provides a better low-end sound, and…
Allows them to be driven by less-powerful amplifiers.
You might also be interested to know…
Legendary producer, Quincy Jones, the man with more Grammys than anyone alive…created special edition of these headphones: the AKG Q701.
According to him, they have the best sound of any pair of headphones he's ever heard. And if it's good enough for Quincy…it's good enough for us.
Now if these last two models were a bit pricey for you, these next two are much cheaper.
First up…
3. AKG K240 Studio Headphones
For beginners on a tight budget, there's no safer bet than the AKG K240.
One look at these headphones…
And you'd be shocked to learn they cost less than a hundred bucks.
Another attractive feature is their "semi-open" design, which is essentially a hybrid of the traditional open and closed back models.
If you only have enough cash for one purchase, and you need a set of headphones suitable for BOTH recording and mixing…
It's one of the few options in this price range that delivers on its promises.
Also check out the updated version: AKG K240 mkII – (Amazon/B&H/Thomann)
Up next we have another "semi-open" model even cheaper than the last…
4. Samson SR850
Never in a million years would you ever imagine…
That a less than $50 pair of headphones could deliver studio quality sound…right?
But review after review confirms it…
The Samson SR850's are are worth much more than their modest price tag.
True…you probably won't hear its name mentioned among gear-heads…
Yet the SR850's offer many of the same features of other headphones costing several times as much.
If you're strapped for cash, you won't find a better deal than the SR850's.
Finally, we've arrived that moment you've all been waiting for…
The high-end models. Starting first off with…
5. Shure SRH1840
Have you ever listened to music on a REALLY good pair of headphones?
If you haven't, it's kinda like losing your virginity all over again. There's nothing quite like it.
You would never imagine that such FULL, CRISP sound could come from such tiny speakers.
But once you hear it, you understand how truly amazing a great pair of headphones can sound.
Among the very best examples of headphones of this caliber…
We have the Shure SRH1840.
A standard among audiophiles for years, these headphones are the safest bet for those looking for their first introduction to ultra high-end listening.
Now as popular as the SRH1840's are, they pale in comparison to the next headphones on the list…
6. Sennheiser HD 650 Studio Headphones
If there is one pair of headphones in the World, synonymous with high-end sound…
It's the Sennheiser HD 650.
A long time favorite in both audiophile, and pro audio circles…
These headphones have perhaps more great reviews than any model on this list.
And that's ESPECIALLY impressive considering that they're by no means cheap.
Having used them for a long time, my favorite feature of these headphones is the ear cups….
Unlike most headphones which smash up against your ears, their extra large elliptical design and deep padding make it so they almost "float" around your ears.
Chances are, they're the most comfortable headphones you will ever wear.
Now for the final pick, I've saved the Grand Daddy of all Studio Headphones…
7. Sennheiser HD 820
In Sennheiser's legendary line of open back HD headphones…
There's been a lot of updates over the years.
First there was the classic HD600…
Then, as we just saw, the improved HD650…
Later came the mostly unsuccessful HD700…
And finally, the critically acclaimed flagship HD800
When it was first launched, the HD800 was a huge success
Its popularity grew so quick it actually surpassed that of the classic HD650.
Here's why:
Despite its ridiculous price tag, it still owns a shocking number of stellar reviews from satisfied customers.
Apart from that, it had a few technical specs that set it WAY apart from its competitors, namely:
Widest frequency available – with the ability to reproduce frequencies between 5Hz and 51 kHz
Extremely low THD – Total Harmonic Distortion is essentially the measure of how much of the signal output is distorted, or modified – which you don't want. The HD800 has the lowest THD of ALL headphones.
Very high impedance – which is not necessarily a good thing in itself, but it does force you to use a headphone amp, thus allowing you to drive your headphones even more precisely.
After updating their flagship once with the HD800s, Sennheiser reiterated the feat with an even more improved version, the HD820.
And of those who reviewers who upgraded from either the HD600 or HD650…
The overwhelming consensus is…the HD820 blows them BOTH out of the water.
If you want the ABSOLUTE BEST there is…I highly recommend them.
Now, don't forget – at 300Ω these are some seriously high impedance headphones and you WILL need a decent amplifier to drive them satisfactorily.
Related Content: