Did you know: The quality of your drum throne has an enormous impact on the speed and precision of your footwork?
It's true. Not only that…
The added comfort dramatically increases your endurance, allowing your to play/practice for much longer. Sometimes by as much as 2-3x!
But until you've actually spent some time on a really good one, you have no clue what you're missing.
Which is why many drummers today grossly underestimate the importance of this simple, yet insanely essential tool.
So in this post, we're going to clear things up once and for all, in our ultimate guide to the best drum thrones on the planet.
Here we go…
Premium Drum Thrones: Worth the Added Cost?
For budget drum thrones, you might pay anywhere from $50-100. For premium models, $150-300 is the typical range.
So is it worth the added cost? And what do you get in return for your hard-earned dollars?
Here's my take: As drummers, we spend ridiculous amounts of money on gear all the time.
So why save a measly $100 on the part of your kit that's arguably most important of all?
Important, not only because of its comfort value, but because a top-of-the-line model makes your playing immediately better. And not just a little bit better. A LOT better.
More specifically, here's what you can expect:
Quieter Movement – which means you won't hear the annoying squeaks and pops you normally get with cheaper chairs. This can be especially important in recording situations.
More Stability – which means your footwork shows immediate and noticeable improvements in both speed and timing.
Better Back Support – which is not only nice for the added comfort, but is essential if you want to continue playing into your later years.
For these reasons, I really wouldn't recommend the cheaper options to anyone.
Right now though, if you currently have NOTHING…and you won't be able to afford better in the foreseeable future, here are the top options between $50-150:
Up next…
The Top 6 Drum Thrones Brands (And Their Flagship Models)
Among the many brands of today, there are really only 6 that make really spectacular drum thrones.
So we've already narrowed down the field for you quite a bit here. All that's left to do now is choose the one that best suits you, among this short list.
So let's take a look, shall we?
1. Tama Thrones
As one of the most recognizable names in drum gear, and drumming in general…
Tama took it upon themselves to improve their already amazing line of thrones with their new and improved, "First Chair Series".
In this line, they increased the overall stability of the throne by adding the following features:
Extra large rubber feet – which means a solid grip even on slippery surfaces
Stronger legs – which means less "flexing" for heavier drummers
Lower center-of-gravity – which means it's far less likely to get accidentally knocked over
They've also added two signature features: their "Seat Lock" and "Glide Tite Grip Joint", which are both explained in further detail in the video below:
In the 1st chair series, there are several variations to choose from, including:
the standard

Ergo Rider

with a tractor-shaped seat
the

Round Rider

with a round seat
the

Glide Rider

with hydraulic seat adjustment
and the optional

backrest

for any of them
Here are the links to each of them below:
As you're about to see, each of the upcoming brands offer similar options as well…which typically means a choice between:
round

OR

tractor-shaped seats
standard

OR

extra large sizing
manual spindle

OR

hydraulic seat adjustment
backrest

OR

no backrest
Now on to the next brand…
2. Drum Workshop Thrones
As the reigning King of all things drums…
Drum Workshop probably makes a wider variety of high-end drum equipment than any other brand.
And their selection of thrones is no exception. They have:
expensive thrones – in the 9000 series
mid-priced thrones – in the 3000 and 5000 series
budget thrones – in the PDP 700 and 800 series
And among these many options you can find virtually any combination of features you desire.
At the very top of the 9000 series is their Heavy-Duty Airlift chairs, which feature a pneumatic height adjustment.
In the following video, you can see how it works. Even though it shows tom and snare stands, they're all part of the same hardware series, so the info applies to their thrones as well.
Here is a list of links to their top models in the upper price ranges:
Up next…
3. Roc N Soc Thrones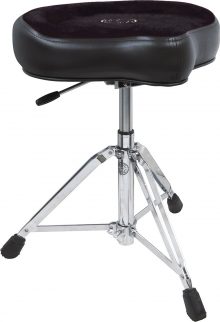 As the one and only company on this list that specializes entirely in seating for musicians…
Roc n Soc has arguably been the name most synonymous with drum thrones for many years now.
In fact, when you look back at their history…you'll find that they've been the leading innovator in virtually every technological advance in drum thrones over the past several decades.
They were the first to offer:
motion thrones
sculpted seats
seats with colorful fabric and stitching
gas-powered height adjustment and shock absorption
optional backrests
…plus many more advancements that I won't even bother mentioning…since I'm sure you get the point.
Up next…
4. Gibraltar Thrones
While they don't have nearly the same reputation for drum thrones as the previous brands on this list…
With the new thrones in their 9608 series…they bring one particularly interesting feature to the table, that we haven't seen in any previous thrones.
The seat fabric is made of unique slick-textured nylon webbing on the outer edges, which serves two purposes:
it's more breathable than other fabrics, which keeps your butt cool and sweat-free.
it's slicker than other fabrics, which allows for free and easy movement of your legs.
And while this second feature might have you wondering if you'll be slipping and sliding on this seat…
You need not worry, because Gibraltar addressed this problem by adding a non-slip patch in the center which keeps your butt firmly anchored in place.
Check it out in the video:
And while Gibraltar does carry many other throne models as well, I won't mention them here since none stand out in any real way, compared to the thrones we've already covered.
Next up…
5. Ahead Thrones
As a company primarily known for their innovations in drumsticks and drumming accessories…
Ahead is probably not the first name that comes to mind when you think of high-end drum thrones.
However…it's quite possible that their new throne, the Spinal G, is the most unique and innovative throne on the market today. In fact, many user reviews say it's the best they've ever had.
So what exactly makes this throne so special? Well…
Based on the concept of "Ergokinetics," a term coined by the throne's designer: Dr. Richard Robershaw…
The Spinal G is designed to support your body in motion, as you're playing…
In contrast to the more familiar term, "ergonomics", referring to things designed to support your body at rest.
And it accomplishes this goal with its one-of-a-kind split-seat design, which does two things:
First

, by leaving an open space down the middle, it removes pressure on your tailbone, which is supposedly one of the leading causes of back pain that many drummers experience.

Second

, by having a separate cushion for each "cheek", it provides what they call a "spring-balanced" design, which essentially offers separate and reciprocal support for each half of your body.
To hear more about exactly what the Spinal G has to offer, check out this video:
Here are the links to both versions:
Now finally for the last brand on the list…
6. Pearl Thrones
Unlike some brands in this list…
Pearl is generally synonymous with rock drums for most people, probably just like Fender is to electric guitar.
What few people know however is that they make excellent drum thrones too.
As a matter of fact, they've been pretty busy in their R&D department the last couple of years and have birthed a few significant innovations, resulting in a completely renewed Roadster line.
The 3 biggest ones being:
"Multi-Core" technology – which is a proprietary innovation for the seat cushion and provides extra comfort thanks to various layers of foam wrapped around the cushion
Tri Lateral design on some models – which is basically a triangle-shaped saddle that gives you both saddle or round seat option
Shock Absorber – some models have a sort of spring that will absorb shocks for added comfort.
Aluminum struts on some models instead of regular legs that provide both strength and stability as well as highly reduced weight.
On top of that, all the models listed below can accept an optional backrest, so you can buy the seat first and get the backrest later on if you decide you need one.
Check out these models here:
---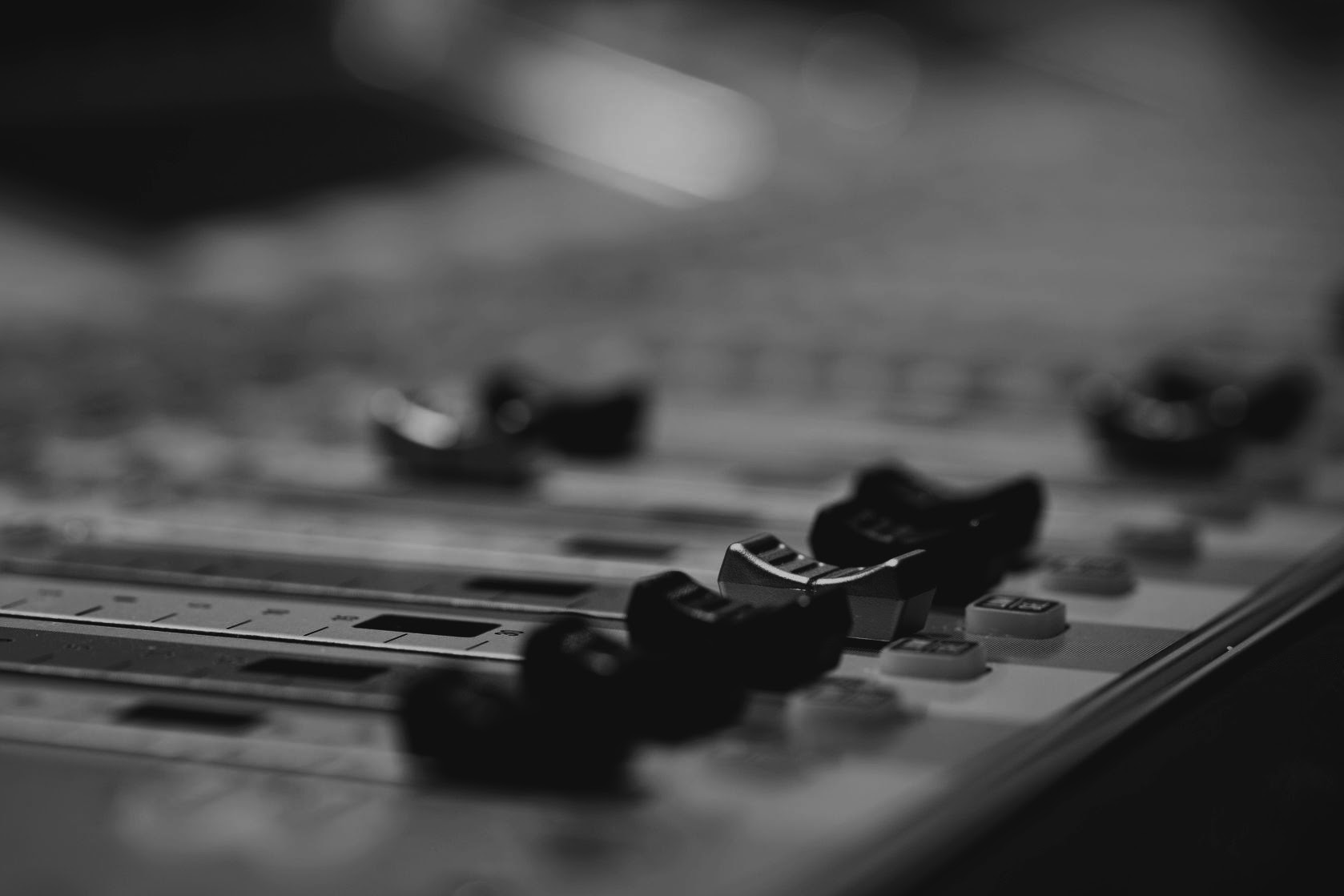 Home Recording Secrets:
The Complete 5-Chapter Blueprint to Building the Studio of Your Dreams – Faster, Cheaper, and Easier Than You Think