Today's topic: Bongos.
Here's a few highlights of what's in store for you:
The ironic names of each bongo drum (Hint: It's the opposite of what you'd guess)
A new build-technology that has bongo players around the World are absolutely loving
The 10 best bongo models of today (with a little-something for everyone)
Rawhide vs Synthetic bongo heads: which one really sounds better?
…plus a whole lot more juicy stuff that I know you'll absolutely love.
Ready? Here we go…
Anatomy of the Bongos
To understand this particular instrument, it's best to start off by breaking down its components.
And so, the bongos consist of 3 main parts:
The Shells – connected by a center block
The Rim – which is used to secure and tune the drumhead
The Drumhead – either synthetic or rawhide
So right now, let's take a look at each of these parts in closer detail.
Starting off with…
SHELLS: Wood, Fiberglass or ABS Plastic?
On bongos, the big drum is called the "hembra" (female in Spanish) and the small one the "macho" (male).
You'd probably guess the opposite, but yes that's actually how it is.
And they are connected by a centerblock, usually of the same material as the shell.
For a warmer, deeper, organic sound, a wood shell is ideal, typically harder woods such as Oak.
Many higher-end models are made of Siam Oak, (aka the rubber tree).
Fiberglass shells on the other hand, have a bright resonant sound that is ideal for amplification in live performances.
Compared to wood, fiberglass is also lighter, more durable, and more weather resistant…all qualities that are ideal for live performances.
As a newer option in the industry – ABS plastic shells offer durability and sound similar similar to fiberglass, yet are typically more affordable.
Up next…
RIMS: SINGLE vs DUAL vs None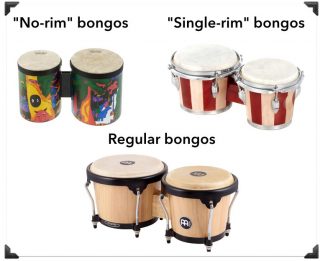 Depending on the model, a bongo's hardware can come in 1 of 3 designs:
No Rim

– which is the common design on cheaper toy bongos

Single Rim

– which drills holes into the side of the shell to secure the lugs

Dual Rim

– which has a rim on both the top and bottom of the shell.
Originally, the "no rim" design was how all bongos were made. The only way to tune them was to hold them over a fire, so that the heat would loosen the head.
These days however, they're mostly used only on toy models.
While single-rim bongos might look like a step up in quality, they're really not. You can't really tune them well. The lugs kill the shells' resonance. And worst of all, they aren't even playable because the screws stick out on the rim.
So really, the ONLY option that is actually tunable and playable is dual-rim bongos.
Up next…
DRUMHEADS: Rawhide or Synthetic?
Bongos heads are made from 1 of 2 materials :
Originally, rawhide was the only option, not only for bongos, but for all types of drums…
Up until 1957 when Remo developed the first synthetic alternative that quickly became popularized.
Oddly enough, when you examine these two types of heads side by side…
You will almost certainly mistake one for the other. The rawhide looks synthetic, while the synthetic looks natural.
In terms of sound, raw head has an overall warmer and wider tone. And is the option of choice for purist players.
Synthetic heads on the other hand, allow players to create a unique high-end hit on the rim. This is one the reason why some bongoneros (bongo players) use a synthetic head on the Macho and a rawhide one on the Hembra (the synthetic head is better for cutting through loud bands).
As a nice bonus for live playing and touring – synthetic heads are much more durable and weather resistant as well.
Up next…
Our Top Recommended Bongo Models
To sum up what we've covered so far…
Wood vs Fiberglass and ABS Shells is a preference.
Rawhide vs Synthetic Heads is a preference.
While DUAL RIMs are a necessity
So based on these conclusions, here are the bongo models currently on the market that are most likely to meet your expectations:
Wood Shells
Rawhide Heads
Synthetic Heads
Fiberglass Shell
Synthetic Heads:

Meinl Pro Series Free Ride – (Amazon)
ABS Plastic Shell
Up next…
The Meinl "Freeride System" Center Block
While almost all bongo shells are connected by a solid center block (either wood or plastic)…
That is drilled into the shell on both ends…
A new recent design by Meinl is said to improve the overall tone of the instrument by avoiding this connection point…
And maintaining acoustic isolation between each of the drums.
According to customer reviews, they really do sound better than "regular centerblock" bongos.
While Meinl offers many bongo models with the freeride system, here are 4 of the most popular ones I recommend:
Fiberglass Meinl Free Ride – (Amazon)
Up next…
How to Tune Your Bongos
The most common tunings are to either tune the Macho and the Hembra an octave apart, or to tune the Macho a perfect fourth one octave higher above the Hembra…
But as you'll see in the video down below, there aren't really any rules apart from you liking the final sound.
There ARE however some basic rules to follow as to HOW to tune the bongos:
Give each nut/screw the same amount of turns
Start with a nut then go to the next one clockwise, as opposed to cross-pattern tuning on a regular drumkit.
Some online sources will recommend that you detune your bongos every time you finish playing them…which in theory is probably ideal…
However…I don't personally know anyone who actually does that. So don't feel like you have to if you're too lazy.
If you do detune them, make sure to do so in a circular, counterclockwise direction.
To see this process in action, check out this very helpful video :
How to Replace Your Bongo Heads
Bongo heads don't need to be changed often, but when the time eventually comes, here's what you need to know:
There are two options:
Pre-fitted heads – which are easiest to mount
Non-fitted (flat) heads – which are basically a loose sheet of material you need to shape and fit yourself with a tension hoop
For 99% of you, I recommend going with pre-fitted heads, since there are no obvious advantages to non-fitted heads, and they're quite difficult to mount.
For more help here, check out this video:
Recommended pre-fitted heads:
If you do want to try flat heads, here are the models I recommend:
Next up…
How to Maintain Your Bongos
If you use synthetic heads, no maintenance is required… however, if you use rawhide heads, you will need to apply some oil on them from time to time, like almond oil or lanolin.
Keep in mind you will likely not do it every week or even month, but rather when you're able to feel your head is really dry.
By doing so, you will allow the skin to vibrate better, thus increasing its volume and tonality.
You can use standard almond or lanolin oils like these ones :
---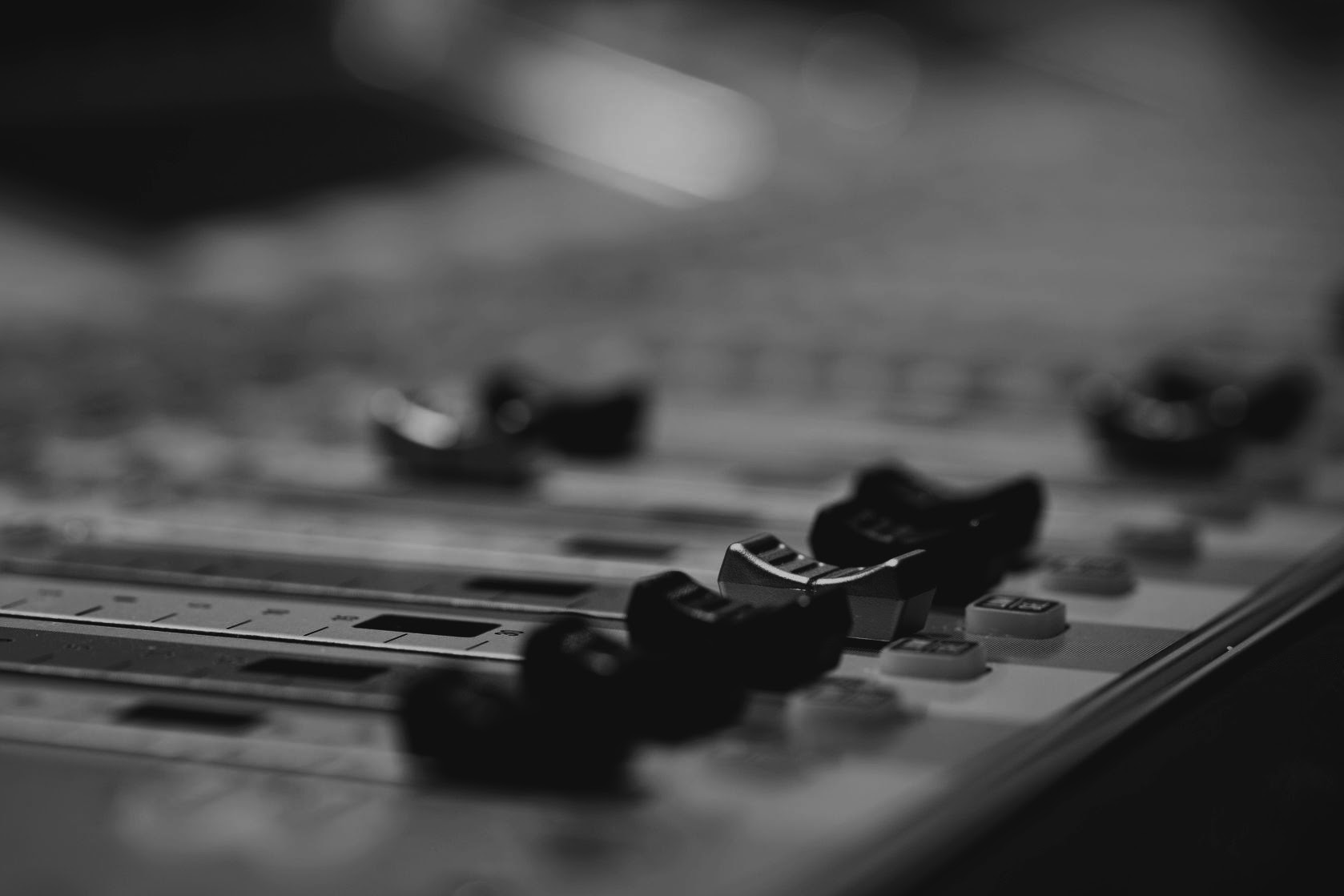 Home Recording Secrets:
The Complete 5-Chapter Blueprint to Building the Studio of Your Dreams – Faster, Cheaper, and Easier Than You Think