Today's topic: acoustic guitars.
More specifically: by the end of this post, you will know:
The 5 Most Popular Acoustic Guitar Body Styles – And How They Differ in Tone
The Pros and Cons of Acoustic/Electric Cutaways – What You're Really Sacrificing
The Top 5 Budget Brands You Absolutely Must-Know – PLUS…The Top 5 Premium Brands As Well
The 5 Most Common Woods Used In Acoustic Guitar Making – And How They Affect Both Sound and Price
…plus a whole lot more juicy stuff that I know you'll absolutely love.
Ready? Here we go…
First up…
How to Narrow Down The Endless Sea of Options…
One of the biggest mistakes newbies make early on…
Is getting overly concerned with minor details, while overlooking the few major details that actually matter to beginners.
Those are:
Body Styles
Electronics
Brands
And while there is much more to know about the acoustic guitar than just these 3 details…
I've saved all the more advanced stuff for later in this post, which you can skip to if you want, by clicking here.
For now though, let's begin with the issues that apply to everyone. Starting first with…
1. Acoustic Guitar Body Styles and Sizes
The first and most obvious difference you'll notice between one acoustic guitar and another…
Is the style and size of the body.
Because besides just looks, the body of the guitar also affects:
The 3 most popular styles are:
Dreadnought – originally developed by the Martin Co. and named after an English warship. It's the most popular, most versatile, and most likely the ideal option for your first (or main) guitar.
Parlor – also developed by Martin, has the smallest and narrowest body of all, and is popular with folk/indie music.

Jumbo

– which has the biggest, loudest, and bassiest sound of all. The original J2000 jumbo was designed by Gibson.
Two other less popular body styles you should also know are:
Auditorium – which is a mix of the dreadnought and parlor designs, and is know by multiple names across brands including: grand concert, concert, and grand auditorium.
Small Body – which is basically a smaller version of a standard dreadnought and is ideal either for traveling or for kids.
Up next…
2. Should I Get an Acoustic Guitar With Electronics?
The biggest benefit of buying an acoustic guitar with pre-wired electronics…
Is that it's a very simple transition between playing acoustically, and playing on stage.
Very often, such guitars feature a cutaway style body which allows easier access to high frets when playing further up on the neck…
Since this type of playing on an acoustic guitar only sounds good when amplified anyway.
The downside with these guitars is…the cutaway shape, and the added electronics both contribute to a noticeable degradation of the guitar's natural acoustic sound.
So you should only choose them if you actually plan on using the guitar for amplified performances.
On the other hand, if you only intend to use the guitar for either practice or acoustic performing…it makes more sense to choose a guitar with no cutaway, and no electronics.
And as you'll notice, almost all of the priciest guitars that money can buy, which are highly prized for their natural acoustic sound, have neither a cutaway nor pickups.
A good way to make sure the guitar you're eyeing has, or doesn't have electronics is to look at the model number. If it includes the letters "ce" at the end, it stands for "Cutaway/Electronics".
Up next…
3. Choosing the Right Acoustic Guitar Brand
Once you've made a decision about both body style, and electronics…
The only remaining decision is the make/model.
However, this one decision is undoubtedly the most difficult of all…
Because there are perhaps a dozen great brands worth considering, each one with its own unique identity…
That one day as an acoustic guitar player, you will likely grow to either love or hate.
Typically most players fall in love with just one or two brands, and stay loyal to those brands for life.
So in this next section, I'll introduce you to each of these top brands, to hopefully give you a decent impression of which ones feel right to you, and which don't.
First up…
The Top 5 Affordable Acoustic Guitar Brands
With acoustic guitars, there are 3 general price ranges that typically yield 3 different qualities of guitar:
Low (under $500)

– which I mostly don't recommend for anyone serious about the instrument
Mid – ($500-1200) – which is suitable for players of all levels, beginner to advanced

High – ($1200+)

– which you typically only buy once you have some skills, and you're committed to being a lifelong player.
With most brands, you'll find that their guitars hover between either the low 2 price ranges, or the upper 2. But almost never in all 3.
So right now, let's look at the following 5 low-mid-priced brands:
Jasmine
Fender
Yamaha
Epiphone
Ovation
First up…
1. Jasmine
If all you want from your acoustic guitar is something decent for the absolute minimum price…there's no better choice than Jasmine, which is no other than Takamine's budget line of guitars.
As a brand well known for making acceptable quality instruments for absurdly low prices…
They're pretty much the only company that has managed to create an acoustic guitar under $100 with almost universally positive reviews from buyers.
As a first guitar, a novelty guitar, or a guitar for a kid, any of the following 2 models would be perfect:
Up next…
2. Fender
While it may be the #1 household name in electric guitars, Fender probably isn't the first brand you'd think of when it comes to acoustics.
Which is totally fair, because on their "about page" there's not a single mention of acoustic guitars in their entire company history!
And that's probably because, compared to their electric instruments, their acoustic guitars are certainly nothing worth bragging about.
But unlike other brands in the same price range, such as Jasmine for example…
The BIG upside of the Fender models is that their name is NOT cheap, which is perfect if you want a guitar that seems high-end despite its low price.
SNEAKY TIP: This is perfect if you're buying it as a present to impress your kid but don't want to spend a lot of money.
Anyways, here are the most popular models to check out:
Budget Models:
Mid-Priced Models:
Fender Paramount – (Amazon)
Fender Malibu Classic – (Amazon)
Up next…
3. Yamaha
As a brand that is somehow world-famous for both their drums AND motorcycles…
You might not even know that Yamaha makes acoustic guitars as well. Along with virtually every musical instrument imaginable.
Unfortunately though for us, their contribution to the acoustic guitar is not nearly as significant as what they've done in other industries.
Rather than developing a unique style and identity of their own with this instrument…
Many of their guitars actually look like cheaper imitations of some of the more high-end brands which we'll cover later in this post.
Yet the thousands of positive online reviews are still more than enough reason to consider them a good potential option in this price range…
Especially if you want something that kinda resembles a more expensive guitar that you can't quite afford yet :).
Here are the top models to check out:
Budget Models:
Mid-Priced Models:
Up next…
4. Epiphone
Commonly known as the cheaper version of Gibson Guitars…
Epiphone lowers their costs with:
Overseas Manufacturing – vs USA-made Gibsons
Cheaper Materials – such as laminated wood instead of solid
Originally a banjo company, Epiphone released their first line of acoustic guitars in Manhattan, in 1928, with their biggest competitor at the time being…Gibson.
They battled it out for years, until 1957 when the company was in decline, and ultimately absorbed by Gibson.
However, rather than kill the Epiphone name entirely, Gibson instead chose to revamp the brand…
First, with a new line of affordable instruments modeled after higher-end Gibson guitars…but also, with its own distinct line-up of guitars as well. And it's an identity that they've more or less held into the modern days.
Currently, these are the most popular acoustic guitars in their line-up:
Budget Models:
Mid-Priced Models:
Epiphone Masterbilt Texan – (Amazon)
Up next…
5. Ovation
While not really a budget brand, and not really a premium brand either…
Ovation is one of the few acoustic guitar brands with popular models at every price range, for both beginners and pros.
And they are undoubtedly the most distinctive-looking of all the brands on this list. It's one of those looks you either really love or really hate.
The first unique feature of these guitars is their unusually thin necks, which many say more closely resemble the feel of an electric guitar.
Their second unique feature is their round, bowl-shaped back/sides made of a synthetic "fiberglass-like" material known as Lyrachord.
According to Ovation, the methods used in manufacturing these backs, based of helicopter engineering techniques, have the effect of controlling vibrations and minimizing unwanted feedback.
Which makes perfect sense, as the vast majority of their guitars are acoustic-electric cutaways for on-stage performing.
Moving on to the next section…
The Top 4 High-End Acoustic Guitar Brands
There are really only 4 big-name brands that mainly make acoustic guitars anywhere between 2k-10k. They are:
Martin
Gibson
Takamine
Taylor
So here's a bit more on each of them…
1. Gibson
The Gibson brand first gained fame in the early 20th century with their original archtop acoustic guitars.
And then later, with the increasingly popular trend of flat-top guitars.
In the coming decades, the brand faced many difficulties, up until the early 1990's when it finally got its glory back regarding acoustic guitars.
Today the unique and distinctive look of their guitars, along with their sound, has become synonymous with the instrument itself.
Some of their most iconic models include jumbo flat-tops like the J-45, J-160E, and the Super Jumbo J-200, the company's "King of the Flat-Top Guitars."
Here are some links to the most popular high-end models of today:
Up next…
2. Martin
As the single oldest American acoustic guitar manufacturer still around today…
Martin is one of the, if not THE most influential acoustic guitar manufacturer, with innovative designs such as:
The dreadnought – which is the most copied body style ever
The X-Bracing system – which allows for a

bigger

soundboard and essentially a

louder

guitar.
Compared to Gibsons, Martins typically feature:
A wider nut

– which is more comfortable on the long run, according to some

A longer scale

– which results in a louder, fuller sound
Due to its superior acoustic sound, you may notice that Martin rarely if ever features any sort of electronics on its models.
All these features combined make Martin guitars especially popular with singer/songwriter types who rely on this single instrument to carry the entire song.
Here are some of the top models I recommend you check out:
Mid-Price Models:
High-End Models:
Up next…
3. Takamine
Often referred to as the Japanese Martin…
Takamine has built its reputation almost entirely from their innovations in acoustic-electric guitars, including:
Palathetic pickups – which completely change the way acoustic guitars are amplified

Parametric EQs

– which allow for much more precise equalization controls
Onboard tube pre-amp – which so far, is the one and only design of its kind
The Palathelic pickup was such a game changer when first released back in 1979 because rather than sitting under the saddle of the guitar (like normal)…
It was instead positioned inside the soundboard, in direct contact with the saddle.
This one innovation became a main driving force in defining Takamine's signature sound.
Here are some models I recommend you check out:
Mid-Priced Models:
High-End Models:
Up next…
4. Taylor
The youngest of the brands on this list…Taylor was founded in 1974 by Bob Taylor and Kurt Listug.
And unlike the long painful journeys of some of the previous companies, Taylor rose to fame faster than any of them…
Mainly thanks to the popularity of their Grand Auditorium model, which was widely known as a classic "all-rounder".
Popstars such as Taylor Swift or Jason Mraz are among the endorsers of this model.
Today, they're also well-known for their innovations in 3/4 size guitars. Their most famous examples include the GSMini, Taylor Baby, and Big Baby…
Which are all somehow able to achieve the sound of a full-size guitar, but in a much smaller body. To date, no other brand has been able to produce a mini guitar that rivals them.
Here are the links:
Budget Models:
Mid-Priced Models:
High-End Models:
Up next…
Building a Deeper Understanding of the Acoustic Guitar
Now that we've thoroughly covered all the CORE acoustic guitar topics, which apply to players of all levels…
Let's move on to some of the more advanced topics. So here's what we'll cover:
Regarding sound, there are 2 important topics worth mentioning:
Body Woods
Neck Joint
Regarding tuning stability, there's:
Tuning Machines
Nut/Bridge
And regarding playability, there's:
Neck/Fretboard Woods
Neck Profile
Nut Width
Fretboard Radius
Truss Rods
Frets
So let's look at them all now, shall we? Starting with…
1. The 5 Most Common Acoustic Guitar Woods
When designing/building an acoustic guitar…
One wood is typically used for the top of the body, while an entirely different wood is used for the sides and back.
For the top, (which has the greatest impact on sound), the standard options are:
Sitka Spruce – which is most popular, because it's light yet solid, and capable of still maintaining clarity at higher volumes
Cedar – which has a softer, warmer sound than spruce, and is commonly used in fingerstyle playing.
For the sides and back, the 3 standards are:
Mahogany – which is most popular, with a warm dense sound that pairs well with a spruce top.
Rosewood – which is more expensive than mahogany, but offers a richer, more complex sound.
Maple – which is the least popular, but has the brightest and loudest sound.
It's also worth noting that not all cuts of a particular wood are equal. For example, with certain custom-made guitars, builders will set aside certain premium cuts of wood…which they know from experience, are likely to have a particularly unique and beautiful sound.
Conversely, some cheaper guitar tops are made from laminated layers rather than a single solid piece.
Besides being easier to build, the main advantage of this method is that it holds up better in changing climates. But it also comes at the expense of sound quality.
Up next…
2. The 3 Types of Joints Connecting the Body to the Neck
As the piece that connects the body with the neck at 14th fret (nylon string guitars at the 12th)…
The neck joint (or heel) is a curved wooden block mounted inside the body of the guitar…
With an insert slot that allows the neck to slide in place, and be secured with some type of glue.
This general method of joining the neck to the body is known as a "set neck"…and can be performed using any one of several cutout shapes including:
Spanish heel
Mortise and Tenon
Dovetail Joint (v-shaped)
Overall, none of these methods is necessarily "better" than the others. And the decision on which to use is made entirely by the manufacturer.
Yet it plays a huge role in determining the resulting tone and sustain of the instrument, as it is the physical connection that transfers vibrations from the neck to the body.
So it is both one of the hardest and most important parts of the acoustic guitar to get right.
Up next…
3. What Makes a Good Tuning Machine System?
Now that we've covered the tonal aspects of the guitar…
Let's move on to the main features that affect tuning stability.
The most important one being the tuning machines (aka tuning heads, tuning keys, machine heads)…
Which are the gears on the headstock that allow you to:
get in-tune
stay in-tune
With other stringed instruments, devices known as friction pegs were used to tune the strings
worm gears – on nylon-string guitars, the strings are wound on the pins inside grooves in the head.
These days however, standard tuning machines on steel-string acoustic guitars use enclosed gears, which are similar to worm gears, but with a few notable upgrades:
Turning Ratio – while normally 14:1, newer tuning machines can be as high as 18:1 which allows for better fine-tuning.
Longevity – because the gears are sealed in an enclosed chamber, with a permanent method of lubrication, they last much longer, and require much less maintenance.
Up next…
4. What Makes a Good Acoustic Guitar Nut/Bridge?
Unlike most parts of the acoustic guitar…
Which offer multiple options, each designed for a specific purpose…
With nuts and bridges, there really aren't many choices.
In terms of design, they're all pretty similar, and differ mainly by building material.
With the bridge saddles, bridge pins, and nuts…
Some type of plastic is typically used on cheaper guitars, while bone or ivory are more common with high-end guitars.
With the bridge itself, the most popular woods are either rosewood or ebony (just like with fretboards).
And while the material used does matter somewhat, the far more important factor that determines the end result is the precision with which these two metrics are aligned:
Intonation – which is done by adjusting the length of the strings using the bridge saddle position, and determines whether or not all the notes stay in tune with each other across the entire fretboard.
Action – which is done by adjusting the height of the strings using both the nut and bridge, and ultimately determines the distance that a string must be pressed in order to be fretted.
With acoustic guitars in particular, these two must be perfectly set during the building process, because there is no easy way to change them later, unlike electric guitar bridges which are designed to be user-adjusted.
Up next…
5. The Most Common Woods Used for the Neck and Fretboard
While they have little-to-no effect on the sound…
The woods used in both the neck and fretboard play a major role in both the playability and usability of the instrument.
Ideally, neck woods should be light, yet stiff…
And transfer as much vibrational energy from the strings to the body as possible.
The 3 woods that are ideal for this job are:
Mahogany – which is the most common by far for acoustic guitar necks, as it is light, and balances well with the body.
Cedar – which is more common with nylon-string guitars in particular.
Maple – which is heavier than mahogany, and therefore better-suited to balance with heavier bodies such as those on resonator, archtop, and electric guitars for example.
In addition to "solid piece" necks, the other common alternative is laminated necks, which are made from strips of wood glued together.
Typically, laminated necks are used with cheaper guitars to make use of otherwise useless scrapwood.
But they can also be used with more expensive guitars for both aesthetics, and added stability. A well-known example would be Martin's "Stratabond" necks which they use for their X Series guitars.
Fretboard Woods
With fretboard woods, which serve an entirely separate purpose from the neck itself…
The two most popular options for acoustic guitars are:
Indian Rosewood – which is the most common choice by far, because it's durable, resonant, and can be polished without any finish due to its natural oils.
Ebony – which is rarer and more expensive than rosewood, but still popular since its properties are mostly the same.
Up next…
6. The 3 Different Acoustic Guitar Neck Profiles
In terms of the playability of an acoustic guitar…
The first, and possibly most important factor to consider is the neck profile.
All neck profiles are some variation of 3 basic shapes:
C profile – which is a semi-circular shape. It is the most common profile, and suitable for the widest range of hands and players.
U profile – which is similar to the C profile, but with a little more bulge on each side of the neck for more of a U shape. This shape is more commonly preferred by players who keep their thumb behind the neck.
V profile – which has a shallower curvature on each side, and some added thickness in the center, which gives it that V appearance. This shape is more commonly preferred by players who hang their thumb over the top edge of the fretboard.
These days, U and V profiles are most commonly seen on vintage guitars, but they can also be customized on new guitars as well.
Up next…
7. Thin vs Thick Neck Widths
In addition to the neck profile, which covers 2 dimensions of the 3-dimensional neck shape…
For the final 3rd dimension, there's the nut width…
Aka neck width, aka fretboard width…
Which tends to vary between the following 2 extremes:
Thin – which is typically around 43 mm and ideally-suited for lighter strings and smaller hands.
Thick – which is typically around 50mm and ideally-suited for heavier strings and finger-style playing.
The reason that "nut width" is the preferred term for this metric is that often, the width of the neck tapers inward from the body to the nut.
And as the taper gets more extreme as nut width decreases. Therefore, "neck width" varies depending on where it's measured.
Up next…
8. Cylindrical vs Compound Radius Fretboards
Part of the reason that today's steel-string guitars can have such thin necks is…
Unlike traditional nylon-string guitars, which have flat fretboards…
Steel string guitars instead, typically have radiused (curved) fretboards…
Which have 2 main benefits:
They make it possible to cram a larger playing surface onto a thinner neck.
They make it easier to apply the added force necessary to bend steel strings.
If the neck itself has a consistent width all the way across, then the radius can be consistent as well, in effect, having a cylindrical shape.
Not surprisingly these are known as cylindrical radius fretboards.
However…
Since most necks instead have a tapered width, the radius will have to be tapered as well, which is known as compound radius fretboards.
Up next…
9. Single vs Dual Action Truss Rods
Over time, as its wood wears and becomes distorted due to climate changes and pressure from the strings…
The neck of the guitar has a tendency to bend in one direction or the other (usually forward) as a result.
To compensate for these changes.
A metal rod known as a truss rod is inserted into a channel within the neck…
With a bow that can be periodically adjusted by the player, to push the neck back into alignment as necessary.
On older versions (known as single-action truss rods), the neck can only be readjust in a backward direction, opposite the force of the strings.
With newer versions (known as double action, double expansion, or bi-flex rods) you can adjust the neck either forward or backward as needed.
One added advantage of double-action truss rods is that since they are not physically attached to the neck, they are much easier to replace than single-action models.
The downside is that the second rod, adds more metal to the neck, and removes more wood, which could (at least in theory) have some negative tonal consequences.
Up next…
10. All About Acoustic Guitar Frets
While very few players ever think about frets in any meaningful way…
The truth is that there's actually quite a bit about that you might be interested to know.
First off, what they're made of:
Standard frets are made from a unique alloy known either as German silver, or Nickel silver, which is made from the following:
18% nickel
65% copper
17% zinc
Next, their installation:
Frets are installed on the fretboard using 1 of 2 methods:
glue method – which leaves some an open gap in the fret slot, which is filled with glue to secure the fret in place.
compression fretting – which forces the sides of the slot apart with each new fret, creating a back-bow in the neck, which is then counterbalanced as the forward force for the strings re-aligns the neck angle and secures the frets in place.
Now finally….
Customization options
There are 2 characteristics you can customize on a fret:
Height.
Width
Now here's a quick rundown of benefits and trades-off of both high and low frets:
High frets
They allow for much more precise playing and you can get as much of a sharp by pressing the string hard.
On the other hand, some players find high-fretted guitars too hard to play
Some frets are so high, your fingers might not even touch the fretboard

at all

when playing.
Low frets
They tend to be more "comfortable" and easy to play
Many old Gibson models from the 60's have such low fret height you might actually not even feel them, when sliding for example.
As for the width, here's how it affects tone and playability:
Thick frets
Frets of .100-.110 are considered thick and are mostly found on electric guitars, and are especially popular among metal players.
Thin frets
They make for smoother playing since you can easily slide on the fretboard without bumping into them
Overall, you're pretty likely to find thick frets with rock or metal guitarists, but extremely unlikely to find them with jazz guitarists for example.
What Exactly Are Fanned Frets?
You might have seen some crazy-looking fretboards such as the one on the image on the right. Also called multi-scale fretboard.
These fretboards allow the guitarist to have various scale lengths on the same fretboard.
Typically, you get a longer scale length on the low E string side and a shorter scale length on the high E side.
According to multi-scale fretboard advocates, they provide increased comfort, intonation, and playability — and more specifically more control over the tension of the strings…
Which is particularly useful for bass strings since you'll get a deeper sound for these.
---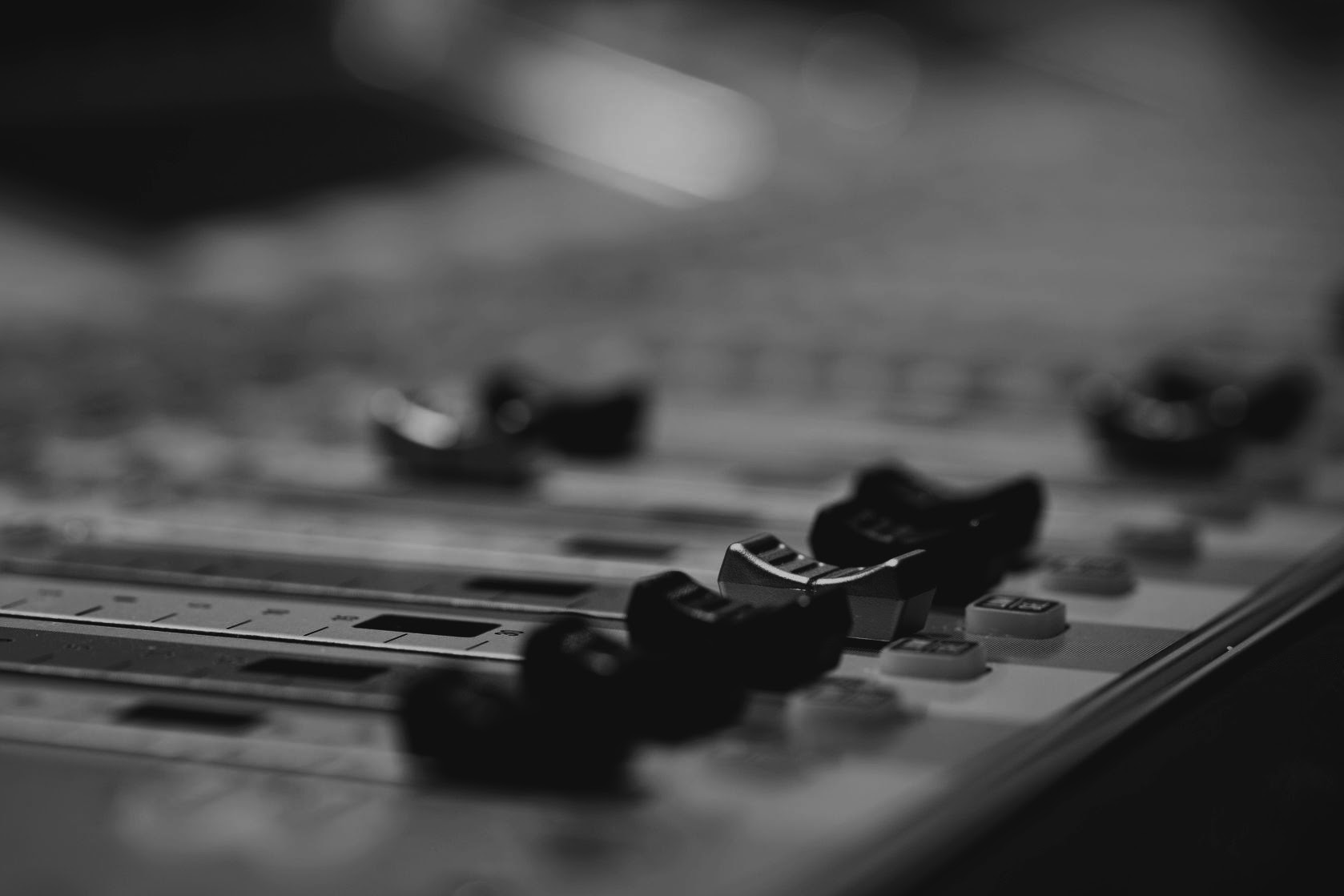 Home Recording Secrets:
The Complete 5-Chapter Blueprint to Building the Studio of Your Dreams – Faster, Cheaper, and Easier Than You Think