While DJ setups vary greatly from one to the next…the only thing that ties them all together is of course, the DJ Software.
As some might argue, it's the single most important decision in your entire rig.
Yet when comparing your options, it can be difficult if not impossible to tell the difference between one and the next.
And if you're here now doing your research, I'm guessing you'd agree.
So in this ultimate guide, I'm going clear things up by show you everything you need to know (and nothing you don't) when it comes to your different software options as a DJ.
So here's what we're about to cover:
DJ Software: What Is It For?
Sounds pretty obvious, but do you REALLY know what the purpose of a DJ software is?
Yup, so let's clear out some ideas and define what a DJ Software truly is.
At their most basic form they're the virtual replication of physical DJ turntables, with 2 decks and a central mixing table.
That means you can actually either fully replace any hardware with DJ software, or couple your software with hardware.
Now, compared to using only hardware — which a significant part of DJs do to this day — the advantages offered by adding software into the equations are:
Automation – many tasks performed manually can be done automatically by software. You save time and the results are always perfect.
Track information – kind of related to automation, the software analyzes important track information such as tempo (BPM) and key.
Control – for DVS DJing for example, you have a lot more control with an adapted sofware.
All these features essentially have the same goal: save you time, by creating logical playlists of songs that share the same tempo and key so that your mix sounds better.
Arguably one of the most helpful innovation of the last 10 years, the colored waveforms helps you quickly view different frequencies…
Which is extremely helpful for mixing, applying effects to the desired part of a given track e.g. on a build-up or once the beat is fully on.
Of course many purists are actually against this automation because they say it takes away the purpose of the DJ. On the other hand this technology allows almost anyone to become a one-time DJ.
Which is why a lot of software companies also have their own hardware line, fully compatible with their software.
The best illustration of this hardware/software "marriage" are DVS (Digital Vinyl System) which basically allow you to "map" any digital song onto your digital (physical) vinyl…
So you can still control the song as you would with a regular vinyl record.
And for that a proper software is a must, which is why I decided to split this article into 2 categories:
Best DJ Software

– for non-DVS DJs
Best DVS Software – for DVS DJs
So let's compare the best DJ Software programs currently available, starting with…
The Key Points to Choose your DJ Software
Before selecting the best program for you, you first need to know what you actually need and expect from your software.
And so there are a few factors to take into consideration:
Compatibility – you'll most likely be using it with some sort of controller, so you'll want to know if it's possible to do so at all.
Streaming Services availability – nowadays you can directly play tracks from streaming services into your DJ program, but not all software work with the same services.
Library Management – Some programs offer advanced library management features.
Harmonic Mixing Ability – Need to quickly change the pitch of the next track so it can match the current one? Some programs will do it, manually or automatically.
Video Mixing – some DJs mix along with video but not all programs offer this feature.
Built-in effects – Not all software offer the same effects, so if you're looking a specific one make sure it is available. Most software offer "effects expansion packs" too.
1. Serato
The most popular choice among DJ's in the US, Serato DJ Pro, one cannot forget Serato's story.
Indeed, it was initially released in 1999 under the name of Pitch 'n Time and was the first program to achieve time modification without pitch modification…
A feature that has since then become an absolute standard in DJ software, but that was a pretty big deal at the time.
But why exactly is Serato DJ the most popular software? Well, it may be hard to pin point precise reasons but most users agree on the following:
Since it's so widely used, it offers some guarantees – if you end up gigging in different venues, chances are these places will have their own gear and many time these gears were actually developped for Serato, such as the Pioneer DJ DJM-900 (Amazon/B&H) which is pretty much ubiquitous in big venues.
You can buy the features you need – Although this is exactly the reason why some DJs dislike Serato, the fact that you can buy only the features you need and don't have to clutter up your program is still something to take into consideration.
Generally, Serato is also the go-to choice for most beginners because its free version is rather complete and allows for solid mixes right off the bat.
Smart Crates feature that automatically adds tracks to a certain crate if they meet the criteria you define
Some new features include:
Smart Crates – a type of smart playlists that automatically pulls tracks that meet the criteria you define
High Res Def – it might not seem like much, but the interface is much easier on the eye, which is pretty important when you spend hours mixing in front of your computer
Practice mode – While competition have had this feature for the past decade or so, Serato finally caught up by including their own Practice Mode, which essentially allows you to practice on the go when you don't have your controller/DJ hardware at hand, or in a worse case, if your gear breaks down mid-gig.
All in all Serato is pretty much the safest bet when it comes to choosing a DJ software, but it's not perfect.
So let's see what its competition has to offer.
And so, next up…
2. Virtual DJ
With its newest versoin, Virtual DJ hit a pretty big blow, particularly on the user interface.
Long criticized for their dull user interface, the last release finally brings a fresh look on the mixing software.
But the list of new features is actually much more extensive, here's a few of them:
Serato Crates compatibility – you're switching from Serato to VDJ? Don't worry, your crates can be read by VDJ too
Genius DJ – this algorithm automatically selects the next track that'll be played on your set, based on what's currently playing.
Broadcast – an exclusive feature to VDJ, you can now broadcast your set live on Facebook, Youtube and Twitch as well as radio server.
Event Scheduler – allows you to schedule a track, sample, video or playlist to play at a pre-defined time.
Another advantage of Virtual DJ is its full compatibility with virtually every hardware equipment available.
Now, the real game changer feature is Stems. This feature allows you to isolate vocals, bassline, drums and melody on any given track.
This feature is completely automatic and will work better on some tracks than others. BUT when it does work it opens up endless possibilities for your mix.
If you're familiar with DJ softwares, you might already know Traktor has had a similar feature for some time now…
But the reason it didn't really take off was due to its restrictions: you had to upload a stem track, which basically has all the "stems" pre-separated.
For a better look at this feature take a look at this video:
So I won't beat around the bush: a lot of the DJ community is saying this feature is what will finally make Virtual DJ more popular than Serato…
And, honestly, it wouldn't be too surprising — espcially if Serato doesn't catch up.
So if Virtual DJ looks like what you're looking for, check it out:
Next up…
3. Pioneer Rekordbox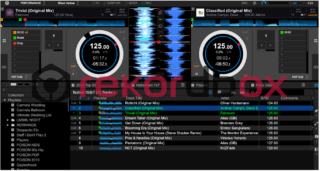 Pioneer's very own DJ software is for some reason vasltly overlooked and unrecognized…
Which is quite baffling if you think about it, since Pioneer is literally the #1 manufacturer of DJ hardware such as controllers or turntables.
Well, it seems they're not as famous for their software, which is a shame since more and more DJs seem to be switching to Rekordbox — here's why:
Another small, but helpful feature Rekordbox's users seem to appreciate is the mini waveforms displayed near the name of the track in the library.
It allows you to asses a track before playing it, giving you a better idea at what might work or not in your mix.
Unique Lighting Mode – this is actually an exclusive feature to Rekordbox, and a pretty big one at that. Rekordbox basically analyzes the waveform of your tracks and automatically creates lighting sequences, according to the rhythm.
Mini Waveforms Previews – near each track name you'll find a "mini waveform" which is actually really helpful in order to assess and find out which tracks would work better in your mix
Light UI/Daylight mode – just like more and more mobile apps feature a dark mode, but DJ software is

mostly used in a dark environment

, which is why developers never really cared for a light colored interface. However, in its lattest verison, Rekordbox does offer this possibility. So that if you're ever DJing in broad daylight, you can still

see your screen clearly

.
Another useful new feature is Cloud Library Sync, which allows you to upload your tracks to Pioneer's own servers, as long as you have Dropbox on your computer.
You can then have 4 different devices set up from which you can access your tracks. But where it gets interesting is in that you can for example modify a track on the move on your smartphone and get back ot it on your computer, with all the modifications you made before.
Check it out:
4. Native Instrument Traktor PRO
Once at the top along with Serato…
Native Instrument's DJ software is definitely not as popular as it used to be among DJs.
But it does have a very loyal user-base, partly because of its unique features but also because of its hardware equipment.
As a matter of fact, many users state how much they appreciate the fact that the hardware is built actually AROUND the software…
And not the other way around like it's usually the case with other DJ softwares.
What this means in practice is that you get a wide array of controllers built SPECIFICALLY for each of Traktors' features.
One of these features is the Remix Decks, an enhanced sample deck that allows you to add up to 64 effects and sync them to your playing track.
One of the key strengths of Traktor is the amount of features it packs for its relatively low price when compared to its competitors. Check it out, for $99 you get the FULL version with:
All the effects offered by Native Instruments – a company known for this particular type of product. To get the full effects pack with serato you need to throw an extra $29.
Full hardware compatibility, including DVS – that's an extra $99 if you want to use DVS with Serato, for example)
Usable without any connected hardware – again, if you want to use Serato without any hardware (e.g. on a trip) you actually have to pay for this, and it'll set you back no less than $39!
Included Audio Engine – which allows you to change the BPM of any track without changing its key/pitch. Somehow this also is a paid feature in Serato, called Pitch 'n Time that'll cost you $29.
All in all to get THE FULL FEATURES in Serato Pro you'll need to pay $325, whereas unlocking all features in Traktor Pro will cost you $99.
Aditionnaly, Traktor Pro actually also enjoys a more "pro" reputation than Serato, who is considered by many DJs as too "consumer grade".
Check it out:
Next up…
5. Ableton Live
The ugly duckling of this list, Ableton Live is actually not a DJ Software per se but an actual DAW.
BUT as its name refers to, it's meant to be used in live settings.
One of the main features DJs particularly appreciate in Ableton Live is its advanced "warping" capabilities, sometimes referred to as "elastic beat gridding".
If you're not familiar with beat gridding, it's the process that consists in creating a "beat grid" of your track. It is usually done automatically by DJ software which detect where the beats are on the track.
This enables a whole lot of possibilities such as effects and track synchronization or looping
Now, Ableton Live takes this feature a level above by opening a whole new world to DJs, and here's why:
The warping feature is particularly useful with old, "analog" songs such as funk, disco, soul or any other genre with strong 4/4 feel.
Since at that time these music genres were recorded with real instrument (drums, bass etc…) these tracks' tempo all fluctuate to some degree, compared to computer made music nowadays.
And so, if — as a DJ — you'd like to add some of these old school tracks to your set, you need to make sure they perfectly match the beats of your otherwise contemporary set…
Which in order to do back in the days, you needed to either make some messy pitch adjustments which would almost never end up with a nice sound.
Well, now you can thanks to Ableton Lives' warping feature.
For more information on this feature check out this video:
Next up…
6. Algoriddim DJay Pro AI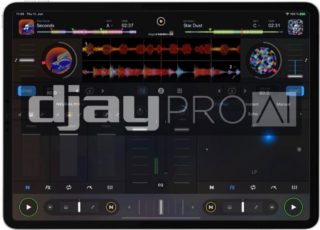 For this pick I wanted something slightly different. Although German company Algoriddim has been developping a full "desktop" DJ software, DJay Pro since 2006…
It somehow never got as popular as the previous ones we saw in this list.
However, where Algoriddim absolutely nailed it was on mobile platforms, and more specifically iOS for which they received the Apple Design Award in 2011.
They've since then come a long way, up until 2020 when they release the acclaimed DJay Pro AI along with their Neural Mix feature.
The Neural Mix feature is pretty similar to Virtual DJ's Stems feature in that it isolates "instruments" of any given track…
Making it easier to mix the vocal of one track and the drums of another.
Of course the major difference is that DJay Pro AI is an iPad app.
For a quick presentation check out this video:
But to sum it up it is a very powerful tool that many DJs have been hoping for virtually ever since turntable djing is a since.
Now keep it mind it is — at least for now — an iPad exclusive app, because of the ressources it requires (which are a lot), that can only be accommodated by Apple's proprietary A12 "Bionic" chip.
Check it out:
And now for the final pick…
7. Mixxx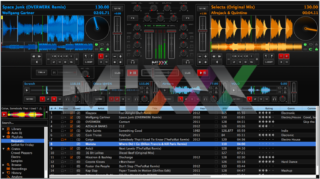 The last pick of this list is also an open-source, and therefore totally free DJ software.
Like most open-source software it has a very active and helpful community, and the program is as complete as any other of this list.
Generally, there are 2 big recommendations when using Mixxx:
Test it thoroughly with your equipment before gigging – you'll want to make sure it doesn't crash in the middle of the gig
Don't buy a new controller/piece of hardware the day of a gig – always confirm your new hardware is 100% compatible with Mixxx, which will very rarely be the case if the hardware was released recently.
Additionally it is also the only professional grade DJ software compatible with Linux, so if you happen to be a Linux user, there's that.
Check it out:
DJ Software Honorable Mentions
Here are a couple of options made to be used on the go with your phone or tablet. They're not used in professional circles but do deliver very solid performances.
Say you're on the commute or DJing at a friend's house and need a quick set up, these apps are pretty much ideal. They are:
Pioneer WeDJ
Algoriddim djay
The first one is what is currently considered the BEST "portable DJing solution", developed by none other than Pioneer.
You can use it as is, without any controller or with a controller, so you don't need to carry your laptop with you.
Check it out:
The second app is developped by Algoriddim and is basically the mobile version of their awarded DJ software djay PRO AI, and guess what…
Just like its desktop counterpart, the mobile version of djay was awarded too, with the Apple Design Award, which should tell you something about its ease of use.
Chekc it out: