---
Today's topic: How to quickly and easily find the best computers/laptops for music production — either in the studio, on the stage.
In the next few seconds, here's just a small taste of what you'll discover:
Is the extra power of a desktop computer really necessary with today's blazing fast computers? (The answer will surprise you)
The "Age-Old-Debate": PC vs Mac… who is winning the war in today's music industry?
A quick rundown of the pros and cons (that truly matter) of each Mac/PC model currently on the market.
PLUS — 3 computer accessories to supercharge your recording/mixing workflow.!
Best Part: By the end of this article, you'll finally be able to put this question to rest, and confidently bite-the-bullet on this all-important investment in your music future.
Ready? Here we go…
First up…
Which is Better for Music Production: Laptops or Desktops?
There was a time years ago when the biggest concern with using laptops for music production was the fact that they weren't nearly as fast or powerful as desktops.
While that remains equally true today…
It's also true that laptops are exponentially faster than even the priciest desktops from just a decade ago.
Which means that these days, almost any decent laptop can do just about anything you need to when it comes to music production.
Since they're both cheaper and far more portable as well, they're the obvious choice for 95% of musicians.
The only exception in need of a desktop would be a pro-level studio, that requires:
Maximum Speed/Processing – since the larger desktop housing still allows for much more power
More IN's/OUT's – for large sophisticated routings
Customization Options – to add more RAM, hard drives, video cards, etc.
Perhaps the biggest benefit of having a desktop computer for music production is the fact that the tower is separate from the monitor.
This allows you to keep the tower in a separate room so the fan noise doesn't bleed into the microphones.
In small bedroom studios especially, the noise from a laptop can actually be a HUGE problem when recording through a microphone.
In laptops with SSD hard drives however, it's a much smaller issue.
But ultimately, the choice is yours.
Up next…
Are Macs or PC's Better for Music Production?
Want to know the easiest way to piss-off a recording geek? Here's what you do:
If he uses a PC in his studio, tell him Macs are the best laptops for music production.
If he uses a Mac, tell him PC's are better.
Because for some strange reason, this topic incites violent debates…that last forever, and ultimately result in no new insights.
But the truth is, you can make great music on either one, and the topic isn't nearly as important as some might have you believe.
Having said that, here's my take on the subject:
Personally, I like Macs. Not just for recording, but in general. And these days, most of the music world (and rest of the world) agrees.
For this reason, the vast majority of the music industry prioritizes their software compatibility for Macs.
Those who prefer PC's typically argue that you get more power your money, and you can customize/supercharge them however you like. Both of which are true.
But these benefits only really apply to PC nerds who know how to work under the hood.
To literally everyone else who doesn't fall into the category of "PC nerd", just get a Mac.
Up next…
The Best Mac Laptops/Computers for Music Production
With Macs, you have 5 basic options:
Mac Pro (desktop)
iMac (desktop)
Mac Mini (desktop)
Macbook Pro (laptop)
Macbook Air (laptop)
The most popular Mac for music production by far is the Macbook Pro.
Simply because it's the more powerful of the two latops, has more I/O, and perhaps more importantly, has maximum screen real estate.
There's little reason to choose a Macbook Air, since it's not that much smaller, but has far less capability than the Pro.
The best computer for music production by far, is the Mac Pro, simply because it has the best of everything, and can be upgraded almost infinitely.
However, for a typical home recording studio, the iMac or Mac Mini would be far more appropriate.
While the iMac is a bit more powerful, I'd actually recommend the Mac Mini because it allows you to keep the computer itself in a separate room from the monitor.
And these days since Macs are so ridiculously fast, even the Mac Mini has more power than you'll really need.
Here are the links to all versions:
Up next…
The Best PC Laptops for Music Production
If you build custom PC's then you already know far more about computers than I do. So I won't insult you with any recommendations.
If you don't fall into this category however, I'd advise staying away from PC desktops altogether.
With latops however, there are many good reasons why a non-computer geek might them ideal for music production.
But PRICE is the one that people seem to care about most.
Unfortunately though, for music production, there is no clear-cut winner that stands out from the endless number of options.
But as most people agree, the best PC laptops for music production tend to be the best PC laptops in general.
Currently it seems that the latest AMD Ryzen chips outperform the Intel, so the choices I've listed for you below mainly focus around those.
Up next…
The 3 Best Computer Accessories for Music Production
Alongside the computer, there are 3 key accessories that make quite a big difference when it comes to music production:
a Keyboard
a Mouse
a Monitor
So let's take a closer look at each one…
Computer Keyboards for the Recording Studio
Even in studios that use laptops, for music production tasks, external keyboards are quite popular.
And here's why:
DAW shortcut markers – some specialty keybaords include shortcut markers, so you don't need to memorize them.
A number pad – which includes a TON of useful shortcuts for most DAW's.
A wireless connection – which allows you access to your transport controls from anywhere in the room.
Here are two of my favorites:
Logitech Wireless Solar Keyboard – besides having a number pad and a wireless connection, this keyboard has one unique feature that you almost never see: solar power. That means no batteries or cables ever.
LogicKeyboard Custom DAW Keyboards – (website) – easily the most well-known maker of software shortcut markers, LogicKeyboard has both

custom keyboards

and skin layovers for virtually every DAW/keyboard combo imaginable.
Up next…
The Ideal Mouse for Editing/Mixing Music
These days, the very best computer/laptop setups for music production typically include a high-end mouse, with programmable buttons.
And that's because, these buttons conveniently give you access to your most frequently used DAW shortcuts without ever touching your keyboard.
And this one tool can speed up your workflow significantly.
While there are an almost infinite number of models to choose from…I suggest Logitech.com as a good place to start your search.
My personal favorite computer mouse for music production is the Logitech MX master 2S – (Amazon).
Two other great options I'd also recommend are the:
Up next..
The Best Computer Monitors for Editing/Mixing Music
When you're first starting out with music production, the value of a really good monitor isn't immediately apparent.
But after working without one for a while, you'll notice 4 problems:
Low resolution screens can only display a small number of tracks at once.
Flat screen TV's often look pixelated, and are awkward to view from close up.
Screens with slower refresh rates can't display level meters in sync with the track.
Any one of these problems alone is annoying. All 3 together will drive you crazy.
To solve them all at once, I'd recommend a large computer monitor (27″ or higher) with a high resolution (4k or higher) and high refresh rate (60Hz or higher), such as the following:
NOTE: Even if you're using a laptop, you'll eventually notice that when you're working at home, it's much better to plug your laptop into an external monitor so you can have that extra screen real estate. So really, external monitors are useful for everyone.
---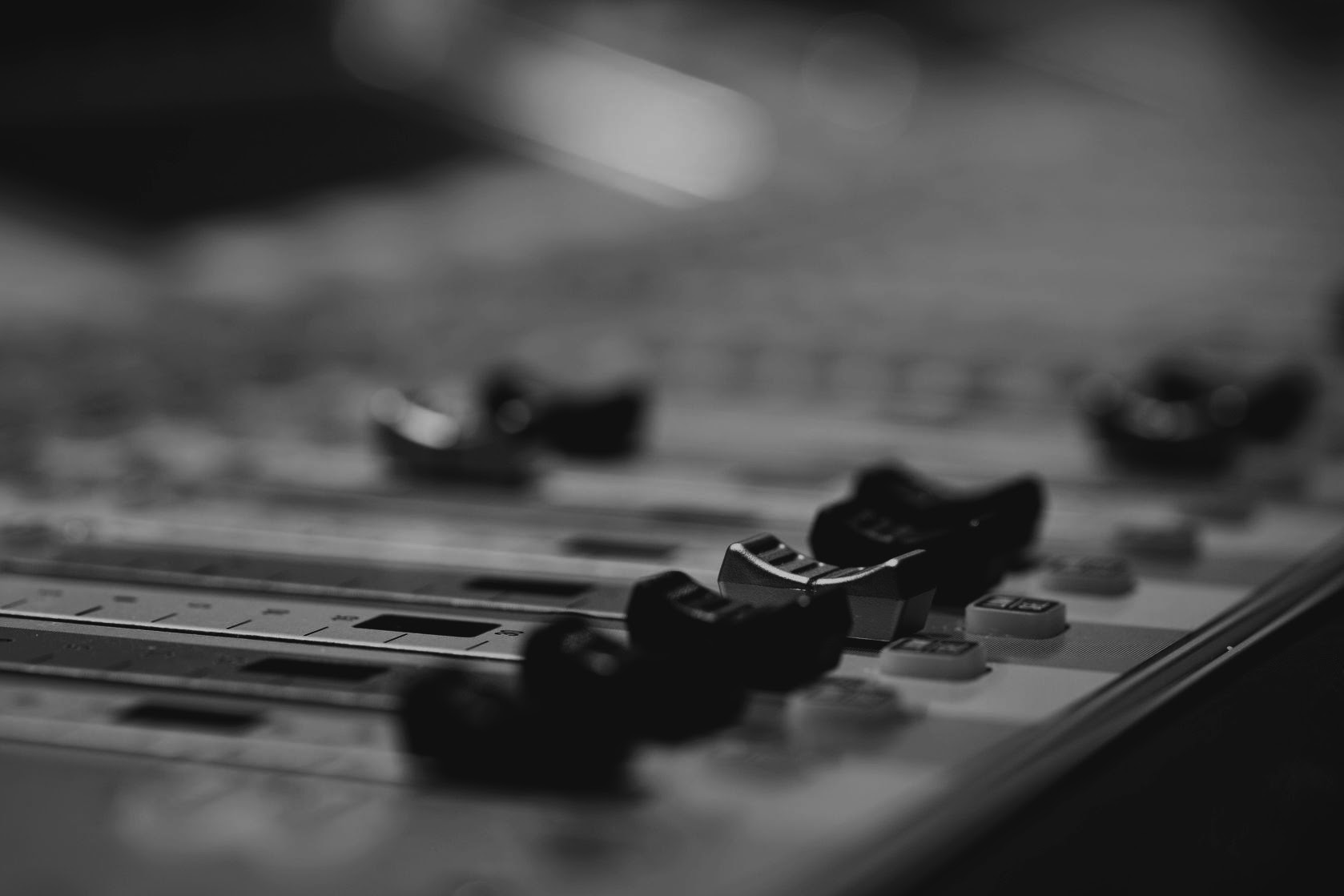 Home Recording Secrets:
The Complete 5-Chapter Blueprint to Building the Studio of Your Dreams – Faster, Cheaper, and Easier Than You Think